Ignorance of the law, no excuse
[Part 3]
There had been a few instances where some objects had been thrown at the judge by the accused. In serious cases they were reported to the Attorney General who would have proceeded to indict them in the High Court. Such incidents had not been reported in our law reports. Lord Denning in his book The Due Process of Law referred to an instance which took place in The Court of Appeal in England when he was a junior lawyer.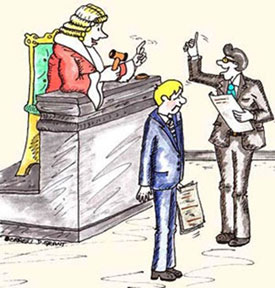 It was to the following effect. ' Just before the midday adjournment a man got up from the row behind me. He threw a tomato at the judges. It was not a good shot. It passed between Lord Justices Clauson and Goddard. It hit the panelling with a loud squish. They were taken aback. They adjourned for a few minutes. They returned, had him brought up, and sentenced him straightaway to six weeks' imprisonment'.
Contempt of High Court
If any act of contempt is committed against or in disrespect of its authority the doer will be dealt with heavier punishment. On conviction after a summary trial the court will commit the offender to jail for a period not exceeding five years. The imprisonment shall be simple or rigorous. In addition or in lieu thereof he may be ordered to pay a fine not exceeding Rs. 5000.[ see Section 18 of the Judicature Act read with section 2 [3] of the High Court of the Provinces [Special Provinces] Act].
Intimidating witnesses
English courts have held that there can be no greater contempt than to intimidate a witness before he gives or to victimise him afterwards for having given it.
This is what an English Judge Lord Langdale said, 'if witnesses are in this way deterred from coming forward in the aid of legal proceedings it will be impossible that justice can be administered'.
Such contemptuous acts whether committed while the proceedings are still pending or after they have finished will be punished by the court itself before which he has given evidence.
Finally it is best to remember that the courts are the custodians of the rights of the citizens of this country and the people look to the courts for the preservation of their rights.
The writer is former Director, Sri Lanka Judges Institute.
Concluded