Leprosy is curable: No disabilities with early treatment
Once upon a time, it was one of the most feared and dreaded diseases in the world. As early as Biblical times when the first cases of leprosy were recorded, those afflicted with the disease were condemned to living in caves and catacombs away from sight and contact with the rest of society.
Then, there was no cure and due to this it was contagious, spreading from one infected person to another easily.
Today, due to medical advances and new drug therapies, Leprosy patients have hope for a better future - one that enables them to completely recover and reintegrate with the mainstream of society.
Consultant Dermatologist at Base Hospital, Karawanella Dr Indira Kahawita, explains to the Sunday Observer how this dramatic transformation in leprosy treatment came about, and why it is important to shatter the myths that prevent high risk persons from seeking early treatment.
Excerpts ...
Q. Leprosy was once a dreaded scourge globally and in Sri Lanka. How would you describe the disease in laymen language?
A. Leprosy is a disease affecting the skin and the nerves of the body. It would not have been such a dreaded disease if not for the involvement of the nerves which causes loss of sensation in the skin patches. It was a dreaded disease earlier because it caused disfigurement and also there was no known cure at the time. Hence persons affected by leprosy had to be removed from the society to prevent the spread.
Q. Has the picture changed today? Is there hope for leprosy victims?
A. At present, leprosy is a curable disease and there is no need to be afraid of the disease.
Q. What causes it? Can it be inherited? Is it a physical mutation?
A. Leprosy is an infection due to a bacterium called Mycobacterium leprae. It is a slow growing organism. Hence the symptoms will persist for a long time. Leprosy is NOT an inherited condition. But more than one person from the same household may be affected. The environment does not cause it directly - but persons from poor living conditions are more at risk for leprosy.
Q. What are the symptoms?
A. The major symptom in leprosy is a light coloured patch of skin with reduced or absent sensation within the patch. These patches may be dry with loss of hair. There are some less common symptoms.
In advanced disease there are many skin patches and raised skin lesions which have loss of neither colour nor sensation. Some patients develop facial changes with small nodules in the ears and thickening of the facial skin and loss of eyebrows.
Such patients shed the bacilli in their breath and are responsible for spreading the disease to others. Some present with weakness or numbness in a limb or loss of sensation in the palms and soles with long lasting ulceration of the soles.
Q. Can some of these symptoms like off-white patches be mistaken for some other skin ailments?
A. The commonest feature, the light coloured patch may be mistaken for Pityriasis versicolor (aluham). One reason why patients with leprosy present late is that they think the patch is due to aluham.
But aluham usually presents with a large number of patches which spread rapidly and may have some itching. Leprosy patches are long-lasting, slow spreading and usually present as one or few lesions.
Another common finding is that the skin coloured lesions are mistaken for allergic reactions. But allergic reactions are extremely itchy and last for less than 24 hours.
Q. Is Leprosy infectious?
A. Usually the single skin patch is not infectious. The patients with involvement of the face are infectious to others.
Q. Who are most at risk of getting it?
A. People from any age group or social status may be affected. But those from leprosy endemic area, people living under cramped living conditions and those living in the same household as a person with leprosy are more susceptible.
Q. Are there different stages of the disease?
A. There are two types of the disease namely the non-infectious variety and the infectious variety.
Usually those with less than five skin patches are considered non-infectious.
Q. Is it curable?
A. Leprosy is curable, especially if diagnosed and treated early.
Q. What is the treatment?
A. The current treatment is a course of antibiotics which has been used successfully over the past 30 years. These drugs are supplied free of charge by the WHO.
Q. Is today's treatment very different from that given in the early past?
A. There was no treatment during the past few centuries; hence the patients were segregated from the society. Dapsone the first antibiotic for leprosy was introduced more than 60 years ago.
The current treatment which is a combination of drugs, was introduced in 1982.
Q. Duration of treatment today?
A. The treatment for the non-infectious type consists of two drugs given for six months. The infectious type should be treated with three drugs for 12 months.
Q. Are drugs the only cure? Are there any side effects?
A. Drugs are the only cure. Side effects are uncommon. Patients are monitored for side effects during the follow up. Anaemia and hepatitis are the side effects that may occur. Persons who are on treatment for the infectious variety usually develop dryness of skin and brown pigmentation which disappears after the treatment is completed.
Q. In 2001 Leprosy control/Elimination services were integrated into the general health services after years of being implemented through a vertical program. Your comments?
A. The integration of the leprosy services to the general health services was done to ensure that the patients receive the treatment from a hospital closer to home. But this did not happen exactly as expected, as the majority of patients are now diagnosed and managed in Dermatology clinics.
This may be considered a good thing also as the quality of care given to the patient can be ensured at a dermatology clinic. But the patient has to travel to the clinic every month.
Q. Sri Lanka was able to achieve the Elimination target set by WHO at national level in 1995. What was this target? How did you achieve it?
A. The Elimination target was to reduce the prevalence of the disease to less than one per 10,000 population. Sri Lanka achieved this target by ensuring a regular supply of drugs to the patients with a well developed follow up system which was carried out by specially trained PHIs. Large scale education programs also helped in making the patients come forward for treatment.
Q. What is the present number of patients in the island? Have you any hard statistics? Or an estimated number per 100,000 population?
A. Currently we record approximately 2,000 to 2,200 new patients per year. The Anti Leprosy Campaign has complete data on the patients with leprosy. The prevalence of leprosy in Sri Lanka is still below the WHO Elimination target. But the number of new cases detected over the past three years has shown a slight increase.
Q. Are they evenly distributed island-wide? Or are there some districts that have a higher density of patients?
A. The districts reporting the highest number of patients are Colombo, Ampara, Polonnaruwa, Batticaloa, Puttalam, Kalutara, Hambantota, Gampaha, Matara and Kurunegala.
Q. Is it correct that two districts in the Western Province and three in the East Province still have a higher number than the Elimination target?
A. Yes this is correct. These areas have been considered leprosy endemic areas for a long time. Overcrowding in urban areas may be one reason for this trend.
Q. Are there diagnostic facilities to detect and treat patients as well in all hospitals across the country? Are the drugs freely available?
A. Facilities for management of leprosy are available at skin clinics over the country. All teaching and general hospitals and some Base Hospitals have skin clinics. All drugs are supplied free of charge and there is usually an adequate supply of drugs throughout the year.
Q. What are your main obstacles in total eradication of the disease?
A. The main reason why total eradication is not possible is the nature of the infection. The bacterium is a slow growing one and the incubation period (time since entry of the germ into the body and appearance of symptoms) may be as long as 5-10 years. It is practically impossible to eradicate a disease that may lie within your body for 10 years.
Q. Other factors can also contribute?
A. The other factors contributing to this are the lack of awareness among the public and some health care staff about the disease. This leads to late presentation and late diagnosis.
Stigma and myths
Q. Is social stigma one of them?
A. Stigma is not a very big problem in SL, but some patients still prefer to keep their disease a secret. I don't think that stigma contributes significantly to the inability to eradicate leprosy.
Q. What are some of the common myths that surround the disease?
A. Currently the biggest myth is that leprosy is not seen in Sri Lanka. Since the word 'elimination' has been associated with leprosy, people tend to think that the disease has been completely eradicated from the country. But we still have a significant number of patients and this trend is likely to persist for some time.
The second myth is that leprosy is not curable. Leprosy can be cured without any disability if diagnosed and treated early.
People earlier believed that leprosy causes falling off of fingers and toes and also significant disfigurement. Persons with severe loss of sensation of the palms and soles may develop ulcers which may cause shortening of the digits but falling off of digits does not happen. Early treatment can prevent any disfigurement that may occur. Earlier people affected were separated from the society, as there was no effective treatment. But the current treatment makes a person non-infectious as soon as he/she has started on treatment. Therefore we advise the patients to lead a normal life together with their loved ones.
Q. Funding? Is it adequate?
A. Leprosy control activities in Sri Lanka receive funding from many sources including the government, WHO, FAIRMED Foundation and the Sasakawa foundation.
The funding seems to be adequate for now. But this question is best answered by the Director of the Anti Leprosy Campaign.
Q. Once cured, are leprosy patients cured for life?
A. We can generally assume that patients are cured for life. The chances of recurrence of the disease after an adequate course of
treatment are less than one percent.
Q. Is there a possibility they can infect others even though cured?
A. There is absolutely no possibility of infecting others once a patient is cured.
Q. How do you rehabilitate a cured patient so he /she can re-enter the mainstream society?
A. The majority of the patients in Sri Lanka have mild disease which does not cause any long-lasting effects. Such patients require no rehabilitation. The minority who are left with chronic ulcers of the limbs and nerve impairment are the ones who need rehabilitation. Medical services like physiotherapy, corrective surgery, wound care are available free of charge at government hospitals. The social services department and some NGOs such as SUROL are involved in the financial rehabilitation.
Q. You have now decentralised your program so that it is implemented from bottom up - has this helped to monitor and supervise the program more efficiently?
A. I would say monitoring and supervising would have been better with a centralised program. The reason why it was decentralised was that after reaching elimination target leprosy was no longer considered a public health problem and it was decided to provide the services closer to home but the ALC has introduced some steps to ensure proper monitoring and supervision.
Future challenges
Q. Your plans for the future?
A. The future challenges are ensuring early diagnosis of the disease and improving the quality of care for leprosy. The first is a challenge due to lack of awareness about the disease among the general public. This leads to delayed diagnosis and treatment and the resultant disability. We are planning to improve awareness by way of a health education campaign.
To improve the quality of care we need to train more health care personnel in leprosy care and to improve the availability of new treatments for our patients. Improving research in leprosy is also planned.
Q. Your message to the public?
A. The most important message is that leprosy is curable if treated early. Therefore, if you have any suspicious skin patches please seek treatment from the skin clinic nearest to your home. The second message is that persons affected by leprosy are NOT a threat to the society. They should be allowed to lead a normal life, and given all support to continue the treatment.
---
Broad public health interventions essential to tackle childhood obesity
The team from Manchester Urban Collaboration of Health (MUCH), based at the University, say broader public health strategies are needed instead as obesity figures continue to rise.
Obesity has now become a global epidemic affecting children, adolescents and adults alike. The Manchester team reviewed of studies looking at dietary interventions to tackle the condition as latest figures now show in the UK 31 percent of boys and 28 percent of girls aged 2-15 are classed as either overweight or obese.
Dr Paula Whittaker, Clinical Lecturer in Public Health at The University of Manchester, said: "We conducted a systematic review of literature of interventions to increase fruit and/or vegetable consumption in overweight or obese children.
We found narrow interventions focusing on single aspects of behaviour are unlikely to achieve long-term change."
Michael Bourke, said: "We need to take a holistic approach and target behaviour change in multiple aspects of children's lifestyles and their surroundings, including nutritional education, parental support and physical activity."
Obese children are at increased risk of becoming obese adults, and therefore they are at risk of numerous other medical conditions in later life related to obesity. They are at risk of having a reduced life expectancy and the longer medical conditions are present, the greater the risk of complications and associated morbidity, resulting in more days away from work and education.
The research findings come ahead of world-leading speakers from across the globe descending on Manchester for the International Conference in Urban Health for Manchester Academic Health Sciences Centre in March.
Dr Arpana Verma, Director of MUCH at The University of Manchester, said: "Public health interventions helping global, national and local policy makers to make the right decisions for evidence-based policy is vital.
Narrowing inequalities and inequities by helping children get the best start in life with policies that work is our best way of tackling the global epidemic in obesity.
"Our international conference will highlight what works from world-leading speakers across the globe."
The rising prevalence of overweight and obese children is the result of multiple factors, such as increased consumption of energy dense foods and a decrease in physical activity participation, Dr Verma said..
- MNT
---
Changing blood pressure can signal heart attack risk
In an individual patient data meta-analysis of studies it has been found that patients with masked hypertension, or normal blood pressure (BP) in clinic but elevated BP when measured at home, had an increased risk of death and cardiovascular events compared with those who had normal BP in both the clinic and at home.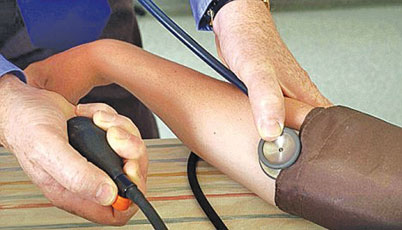 The analysis included 5,008 participants. While self-measured home BP was lower on average than clinic BP (mean home systolic BP 7.0 mm Hg and diastolic BP 3.0 mm Hg lower than the conventional blood pressure), 67 (5.0 percent) of those with optimal clinic BP (120/80 mm Hg), 187 (18.4 percent) of those with normal clinic BP (120/80 mm Hg), and 315 (30.4 percent) of those with high-normal clinic BP (130/85 mm Hg) had masked hypertension, or BP130/85 when BP was measured at home. During a median of 8.3 years (total of 46,593 person-years) of follow-up, 522 participants died and 414 had a fatal or non-fatal cardiovascular event.
Compared with patients with optimal blood pressure without masked hypertension, multivariable-adjusted hazard ratios for total mortality for those with optimal clinic BP but masked hypertension were 2.21 (CI, 1.27.85); for those with normal clinic BP but masked hypertension, 1.57 (CI, 1.02.41); and for those with high-normal clinic BP but masked hypertension, 1.54 (CI, 1.07.23).
The authors found that patients with masked hypertension were more likely to be male, to smoke, to have diabetes mellitus or a history of cardiovascular disease, and to be older and more obese. These factors and others were adjusted for in the analysis. They acknowledge that the study did not assess the reproducibility of masked hypertension.
The authors state, "The key finding of our current study is that home blood pressure substantially refines risk stratification at levels of the conventional blood pressure that are presumably associated with no or only mildly elevated risk.
In contrast, in severe hypertension, the self-measured home blood pressure did not improve the prediction of death or cardiovascular complications.... Properly designed randomised clinical trials are required to demonstrate that identification and treatment of masked hypertension versus the current standard of care, i.e., not to perform home blood pressure measurement and not to treat people with normotension or pre-hypertension on conventional measurement, leads to a reduction of cardiovascular complications and is cost-effective."
- MNT