Foot and mouth disease under control
Foot and mouth disease which has spread to seven districts is under control and spread is declining.
A locally produced vaccine is being used to control the disease, Director General of the Department of Animal Production and Health, W.K. de Silva told the Sunday Observer.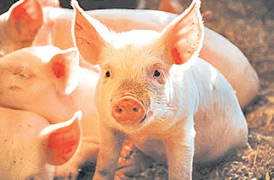 "We have appointed two committees, one for national level review of the situation and appropriate action to be taken and the other committee to attend to individual cases where the veterinary surgeon in the area cannot handle the situation," he said.
"We continuously monitor the situation and measures have been taken to stop further spread of the disease, de Silva said.
Foot and mouth is infectious and at times a fatal viral disease that affects cloven-hoofed animals. It can be spread by infected animals, contact with contaminated farming equipment, vehicles, clothing or feed, and by domestic and wild predators.
The disease has caused untold damage to the livestock industry. The disease which was initially reported in the North and North Central Provinces has spread to the Gampaha district and officials believe it spread through live animals being brought from Vavuniya.
The spread in the Gampaha district was high due to unsafe slaughtering methods, distribution of meat and dumping of offal. Measures have now been taken to stop these practices and prevent the spread of the disease. Silva said that the department has the capacity and vaccine needed to treat infected cows and buffaloes.
There are locally produced vaccines for cows and buffaloes but there is a shortage of vaccine for swine.
When the disease began to spread among swine, the department faced an issue but now 30,000 vials of vaccine have been imported from France, he said.
"We can control the disease and resources and legal provisions are available to control this epidemic. The Department has rid two animal diseases, Haemorrhagic Septicaemia and Black Quarter using locally produced vaccines and we will eradicate foot and mouth disease by 2020 using local vaccines, Silva said.
"The biggest challenge in this effort comes from drug companies as they do not like our programs in developing local vaccines," he said.
Silva said that there will be a shortage of meat in the coming weeks but it will not be a serious issue because demand has dropped due to panic and the market will settle soon.