Korean scholarships for students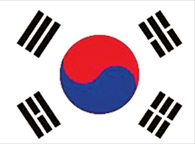 The Government of the Republic of Korea will provide full scholarships to five Sri Lankan students to pursue a graduate (Master's or Doctoral) degree in Korea. The Global Korean Scholarship (GKS) will provide higher education in Korea for foreign students and promote international exchanges in education and mutual friendship.
Over 550 foreign students from 157 countries will be awarded scholarships this year. In 2013, four Sri Lankans were awarded scholarships and three were awarded the GKS scholarship for undergraduate courses in January 2014.