Rs. 1.2 b development project in Kollupitiya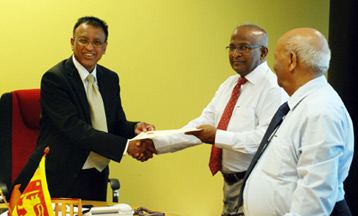 Lee Hedges Investments Ltd, a fully owned subsidiary of Lee Hedges PLC has signed an agreement with the BOI for a commercial development project which will provide 112,000 sq. feet of super grade office space in its 15-floor complex, with three floors of parking, central air conditioning and provision of two elevators, at an estimated cost of Rs.1.2 billion.
Design Consortium, the consultants and architects of the project considering the more than 100-year history of the parent company, Lee Hedges PLC, has come up with a unique colonial architectural design.
The land on which the building is to be constructed was originally owned by Lee Hedges PLC. The company was acquired by the Government in 1970 for the Cashew Corporation. It has been secured back from the UDA on a 99-year lease.
The project is pioneered by the Chairman and Managing Director of Lee Hedges, and the Chairman of Pioneer Group of Companies, S.R. Vamathevan. The company has developed several residential apartment complexes within the Colombo Municipal limits.
The proposed project will be one of the high rise mega projects that will be built on the three acres of prime land with the Galle Road and Duplication Road frontage.