Asian shares slip after weak China, Japan data
HONG KONG: Asian markets tumbled on Monday following a surprisingly poor batch of economic data out of China, while revised Japanese figures showed 2013 growth was slower than expected.
The losses came after healthy gains on most bourses last week and despite jobs growth in the United States while investors are keeping an eye on events in Ukraine as leaders try to find a peaceful resolution to the crisis.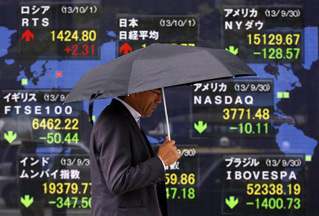 Tokyo fell 1.00 percent by the break, Sydney eased 0.77 percent and Seoul was 0.86 percent lower, while Hong Kong sank 1.38 percent and Shanghai lost 1.13 percent.
Beijing said Saturday it had seen an unexpected trade deficit of $22.98 billion in February.
The figure compared with a surplus of $14.8 billion in the same month last year, and a median forecast of an $11.9 billion surplus. Exports fell 18.1 percent and imports jumped 10.1 percent.
Those figures were followed the next day by news that inflation eased to 2.0 percent in February, down from 2.5 percent in January, which led to talk of possible deflation, which could delay much-needed investment and consumer spending.
While authorities blame the country's holiday season for the weak results, they add to growing worries about the Chinese economy, with the latest surveys on the key manufacturing sector showing weakness.
In Japan the government said Monday that gross domestic product growth was 0.2 percent in the quarter to December and 1.5 percent through 2013, slower than first thought.
Preliminary figures last month showed GDP expanded 0.3 percent in October-December period and 1.6 percent over the year. While the data still marked Japan's best annual performance in three years, it will put the focus on the Central Bank with speculation that it will announce a fresh batch of monetary easing measures. In currency trade the yen rose after seeing a sell-off for most of last week. In early trade the dollar fell to 103.02 yen from 103.24 yen in New York Friday.
The euro fetched $1.3887 and 143.08 yen, against $1.3874 and 143.31 yen.
The United States provided a broadly positive lead after official figures showed 175,000 jobs were created in February, rebounding from two disappointing winter-battered months, suggesting economic growth is still on track.
On Wall Street the S and P 500 edged up 0.05 percent to its third record in four days and the Dow gained 0.19 percent but the Nasdaq fell 0.37 percent.
AFP