National Quality Awards, a journey towards excellence
The quality revolution of the 1990s enhanced the importance of quality considerations in developing strategic processes of organisations.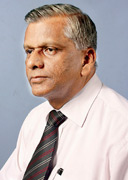 This has led to a situation of considering the mechanisms and tools needed to improve and develop the quality of products and services within an organisation. This has become one of the most important items in the agenda of business sectors and as a result organisations started to develop or introduce quality management concepts to reduce waste and to improve the bottom line.
Many organisations are interested in improving the quality of products and services in view of the stiff competition in the markets. In this connection, organisations started to systematise the processes while giving due consideration to the needs and wants of customers when making products and services.
Considering this important trend in 1995, the Sri Lanka Standards Institution (SLSI) set up the Sri Lanka National Quality Award (SLNQA) to enable organisations to follow best practices in Quality Management. Most National Quality Awards include performance in implementation of Quality Management practices to ensure that the organisation moves in the right direction.
This concept has been taken into consideration by experts and for example, the criteria for the Malcom Baldrige National Quality Award changes on a yearly basis depending on the changing needs of the business environment.
Objectives
The award promotes awareness of quality as an increasingly important element in competitiveness, promotes understanding of the need for performance excellence, recognises organisations that excel in quality management activities, recognises quality achievements and successful quality strategies of Sri Lanka organisations. The award also helps elevate quality systems and to share information on successful performance strategies and benefits derived from the implementation of these strategies.
The awards are National quality award, Merit award and Commendation certificate.
Award categories include manufacturing, service, healthcare and education.
Evaluation is based on the Malcolm Baldrige national quality award of the USA. The Sri Lanka National Quality Awards has seven evaluation criteria, and a 1000 point scoring system and a five-level judging process embedded into the system The company's leadership system, values expectations and public responsibilities.
Strategic planning
Strategic planning presents many companies with an enigma, and manufacturing plants often find difficulty in the transition from an operational to a strategic way of thinking. Attempts to effectively implement such plans often fail.
Some companies merely go through the motions of strategic planning as part of their corporate requirement. Plans developed by senior executives in isolation, printed on glossy paper and handed down to employees for implementation seldom succeed. A lack of understanding, commitment and participation by employees causes plans to lose momentum rapidly.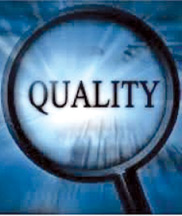 Customer and market focus: The manner of determining customer needs and the mechanisms used by the company to focus on customers are covered under this requirement.
Measurement: The effectiveness of measurement and its analysis to support customer driven-performance excellence and market place success.
Human resource focus: The success of efforts to realise the full potential of the workforce to create a high performing organisation. Process management: The effectiveness of systems and processes for assuring the quality of products and services
Business result: The company's performance and improvement in key business areas - product and service quality, productivity and operation effectiveness, supplier quality, financial and marketplace performance indicators linked to these areas.
The evaluation process consists of five stages such as desk evolution carried out by individual examiners. Desk evaluation carried out by those examiners as a team to arrive at consensus. Site evaluations carried out by the team to adjust scores after verifying and clarifying issues.
A review committee analyses the scores and recommends award recipients to the panel of judges.
The panel of judges, chaired by a retired judge of the Supreme Court or Court of Appeal, secedes the award winners, merit winners and commendation certificate recipients.
Those eligible are organisations that have been in Sri Lanka for a minimum of three years, and organisations having a quality management system.
Subsidiaries, divisions or business units of larger organisations are eligible if they primarily serve either the public or business other than the parent organisation.
Parent and subsidiary company cannot compete for the award in the same year. Winners of the award and all its subsidiaries are not eligible for a second award for five years.
Information contained in applications and obtained during the site visit will be treated as confidential and will not be released for any purpose other than the examination review.
Benefits
Organisations can publicise and advertise the awards. It encourages other organisations to improve quality management practices to compete more effectively for future awards.
Organisations could develop advantage over competitors in their marketing strategy and are eligible to apply for the Asia Pacific Quality Awards.
Feedback
All applicants will receive an official feedback report containing their strengths and areas for improvement that had been noted in the evaluation process.
This feedback report which is a written assessment by a team of quality experts can be used as a tool for continuous improvement of the organisation.
The writer is the Director General, Sri Lanka Standards Institution