The Ceylon olive:
A Sri Lankan fruit with global potential
Elaeocarpus serratus, also called Ceylon olive and Wild olive, is a species indigenous to Sri Lanka.
Locally known as Veralu (Sinhala) and Karai or Ulankarai (Tamil), this tropical fruit is found in the Indian Subcontinent, Indo-China and South East Asia. The Veralu tree is a medium size tree with leaves similar to avocado. In fact, many people mistake it for an avocado tree when they first see it, but they are not related. The Elaeocarpaceae family and its fruits are almost similar to the large green olives (the commonly known olive, Olea europaea , of the family Oleaceae).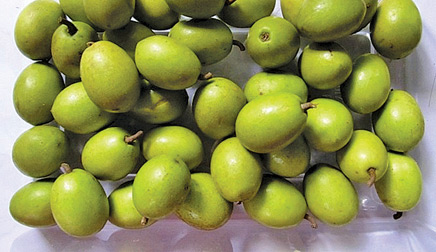 The Ceylon olive trees are naturally grown in home gardens across the country. The tree usually measures from 8 to 15 metres in height and 5 to 10 metres in width. The plant is commonly grown in the dry zone of Sri Lanka. This sun loving tree grows on Loam soil and requires low maintenance. The delicate, lacy, white flowers usually attract a myriad of insect pollinators, notably flies, wasps and flower beetles.
The Ceylon olive become smooth, green oval shaped when ripe. It has a brown coloured seed inside the fruit. The seeds have been popularly used as beads to make religious jewellery in South Asia and South East Asia. The flesh outer portion of the fruit is edible. The fruits fall when ready and spoil rapidly if not gathered and used. The flesh texture is pasty and avocado-like, and has a slightly sour taste, which indicates that it is a good source of vitamin C.
Great for pickles
In Sri Lanka, these fruits are used as mustard pickles. The unripe fruits are first boiled, then squashed flat. The whole fruits are combined with diced shallots to make a mixture called country mustard. These pickles are also known as "Veralu Achcharu ." The Ceylon olives are a popular street food in Sri Lanka. Street vendors boil and press the unripe fruits and then sell them seasoned with salt and chilli powder. Softer and sweeter ripened fruits are eaten with sugar or jaggery, which makes for a pleasant snack. Some shops sell them pickled in salt, sugar and vinegar.
Packed with antioxidants
Research has revealed that the Veralu fruit is rich in minerals, vitamins, fibre and valuable antioxidants. Due to its nutritional content, Veralu has been used in traditional Sri Lankan medicine for centuries.
The Ceylon olives possess anti-inflammatory, antibiotic, anti-anxiety, analgesic, antidepressant and antihypertensive properties. Elaeocarpus serratus is used in rheumatism and as an antidote for poison.
The bark of the Ceylon olive tree is used to treat haemorrhages and gastric disorders. The paste of the leaves has been known to be a cure for ulcers. The fruits are used in the treatment of dysentery and diarrhoea. It is also used to treat abscess, fungal infection, joint swelling and Eczema.
A natural form of hair care
Sri Lankans have been using the fruit as a natural form of hair care for generations. The mashed Veralu leaves are applied on the hair before a bath to make hair smooth and glossy. It protects the natural moisture of the hair while making it bright and silky. Ceylon olives is a natural anti-dandruff agent and protects hair from lice and dirt. It helps to maintain healthy hair while repairing damaged hair. Many personal care manufactures are currently using extracts of Veralu to formulate anti-dandruff shampoos.
Numerous personal care and food companies have begun to promote value added products made out of Veralu . Globally, more and more people are switching to personal care products that are alcohol and SLES free that is made with natural ingredients. Sri Lanka can benefit from this increasing global trend by supplying high quality personal care products that are made from herbal ingredients such as Veralu.
Currently, Sri Lankan ayurveda herbal shampoo and conditioners made out of Veralu are sold in the local and international markets. However, the long term health benefits of such products need to be communicated to the local and international consumers.
International potential
Sri Lanka needs to cash in on the global trend of using products manufactured from natural ingredients.
The Veralu leaf extracts can be utilised to produce effective ointments to treat ulcers, Eczema and fungal infections of the skin. More research can also be conducted on the manufacture of anti-bacterial and anti-depressant medicines using Veralu as a key ingredient. The constipating effect of the fruit can be made to use by manufacturing capsules that are effective against diarrhoea.
Food made out of Veralu is also gaining popularity, especially in countries with high Sri Lankan population. Among the food made out of this ingredient, Veralu Achcharu is the most popular. Many Sri Lankan food processing companies are bottling Veralu pickle and sending it overseas. Ice cream made out of Veralu is also increasing in popularity particularly among the local youth. More innovative food products made out of this indigenous fruit will boost its consumption both locally and internationally.
The writer holds two Masters Degrees in Public Health from the University of Queensland in Australia. She has worked in the Australian, American and Sri Lankan healthcare systems.