Child breastfed while riding moped: mom held
The moped is a mini motor cycle mostly meant for women to travel short distances. But imagine a young Chinese mother breastfeeding her little one while riding the moped!
This weird news was reported from Henan Province, China.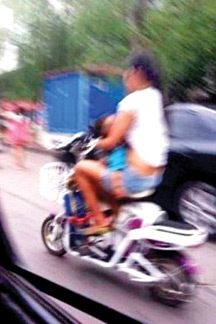 The 18-month old boy was lying in his mother's lap and apparently began crying so she started feeding him using one hand and kept driving with the other.
The woman was pulled over by the police after she was spotted breastfeeding her baby while riding the moped in busy traffic.
"She was risking her life, her son's life and the lives of all other road users," said a police spokesman. "We told her that if she carried on we would confiscate her bike."
Some of the witnesses were impressed by the woman's driving skills, but most criticised her for being irresponsible.
As this action was captured by a mobile phone it may not be very clear, but you can observe the action faintly. When the story appeared online there were several comments pro and against this mother's action.
One Internet user said: "This is not love, its endangerment. If something happened, the child is bound to get hurt". Another comment was: "If the child is really hungry, can't she just pull over and find a safer place?"
A third said: "This society is somehow responsible. If you are little late for work, you lose half a day's pay."
In the end the message is: "Breastfeeding is one thing and riding a moped is another. The best thing is you mustn't get these two mixed up."
---
Eagle Boy breaks another record
He Yide nicknamed "Duoduo", from Nanjing, China was involved in breaking another Guinness World Record.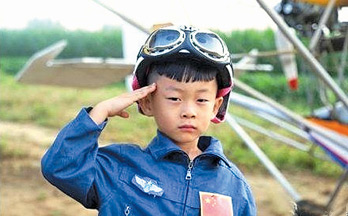 He turned out to be the world record holder for the youngest person to pilot a plane.
Five-year-old Yide earlier showed his talent by rolling in the freezing snow ,and now was reported to have made a 35-minute flight by an ultra light aircraft across Beijing Wild Life Park recently.
Yide has been a popular performer since February 2012 when a video of him running in the snow only wearing underwear was shown online. The video, posted by his family, was shot in New York with temperatures -13 C.
Later in August the same year, then four-years-old, he sailed a yacht two times his weight during Qingdao International OP Regatta. In September 2012, according to his father, the boy climbed the Fujiyama in Japan within 15 hours amid rain.
This summer, the boy stunned Chinese people again as he finished a solo flight after less than one-month training at a private pilot tourist farm in Langfang, Hebei province.
The boy's father, He Lie sheng, who is a manager at a private textile company in Nanjing, published the kid's gruelling everyday training in flights, sports and mathematics on China's social microblogging site Weibo, hailing his distinctive education method.
The five-year-old boy, who has gone over all the lessons for primary students from grade one to three by this July, is set to attend classes with forth grade students at Experimental Primary School of Nanjing University of Science and Technology.
---
Latest trend: watching others eat
Without you yourself eating with others can you be satisfied or be content by just watching someone else gobbling down some delicious food?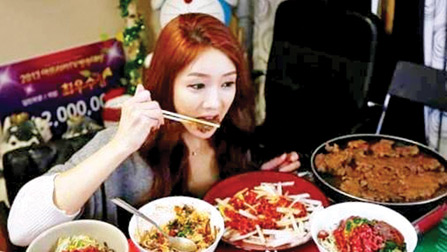 That is what is happening in South Korea every evening at 8 pm. It is the latest trend! A lot of people go online to watch a stranger eating.
This new phenomenon is called "muk-bang" and was made famous by 33-year-old SeoYeon Park, also known as "the Diva."
Many people watching the program has compared Ms. Park's stomach to an elephant's because in every broadcast she gulps down a lot of food, such as four large pizzas, which is equal to consuming six pounds of beef. Park makes up to US$9,300 a month from her broadcasts alone.
Although the main focus of her broadcasts is eating, Park also finds time to talk with her fans via a chat room during the four-to-six-hour coverage."My fans tell me that they really love watching me eat because I do so with so much gusto and make everything look so delicious," says Park.
"A lot of my viewers are on diets and they say they live vicariously through me, or they are hospital patients who only have access to hospital food, so they also watch my broadcasts to see me eat."
"One of the best comments I ever received was from a viewer who said that she had gotten over her anorexia by watching me eat. That really meant a lot to me." Her avid fans even send her money to help her buy food. Others sponsor her with food.
Afreeca TV, the publicly listed social networking site that hosts her show, allows users to buy and send virtual "star balloons" that can be monetised after the site takes a 30-40 percent commission.
Any payment by viewers is purely voluntary as all channels can be viewed free. The service is currently limited to South Korea, although the company has plans to expand it to other countries.
SerimAn, the TV public relations coordinator of Afreeca TV, said the three big reasons people patronise this are the "rise of one-person households in Korea, their loneliness and, finally, the huge trend of 'well-being culture' and excessive dieting in Korean society right now." Also, Koreans hate eating alone. "For Koreans, eating is an extremely social, communal activity, which is why even the Korean word 'family' means 'those who eat together,'" says Prof Sung-hee Park of Ewha University's Division of Media Studies.
---
Lesson from tigers
Jinhai Yang, 27, an unemployed and a loner, has been suffering from a complicated mental problem which results in depression.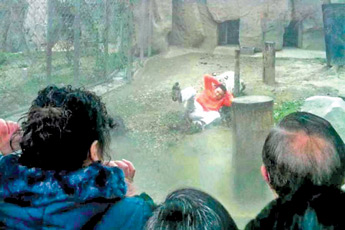 Only solution, he figured, was to commit suicide.
But that also became a problem as he did not know how to get about. He could have shot himself, but finding a gun was a problem.
He could have jumped in the river or the sea, but that too was a problem as a river or the sea was far away from Sichuan Province. The only option was what he did. He climbed a tree and jumped into the white Bengal tigers' cage at the Chengdu zoo, China.
As stunned visitors watched Yang spent over 20 minutes trying to tempt the tigers to eat him.
"I asked them to bite me and eat my meat," Yang said later.
But what the tigers did was to scratch and drag him by his neck, and the tigers declined to make a meal of him.
The zoo staff tranquillised the animals so that they could rescue Yang who sustained minor wounds.
One onlooker who was at the scene was heard saying "maybe they'd prefer something else".