Cleopatra blends beauty and intellect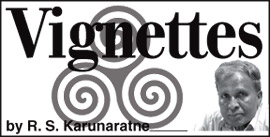 The world has seen many beautiful women from time to time. However, Cleopatra of Egypt surpasses all of them because none of the others had the rare attributes she possessed. Cleopatra had royal blood. She ruled Egypt jointly with her father Ptolemy XII and later with her brothers Ptolemy XIII and Ptolemy XIV whom she married according to Egyptian custom.
Apart from her royal lineage, Cleopatra was a queen of unsurpassing beauty. It is said that kings swooned on entering her presence. Two great Roman leaders, Julius Caesar and Mark Antony, were attracted to her beauty. Caesar was so overwhelmed by her charms that he reversed his decision to support Ptolemy and backed Cleopatra to win a nearly unwinnable war. Their romantic relationship lasted until Caesar was assassinated. Unlike many other beautiful women in history, Cleopatra was also a courageous and highly intelligent queen who had a firm grip on her kingdom. According to historians Cleopatra would have dreamt of conquering the whole world. Even Julius Caesar found her to be a young, charming and intelligent woman who had almost everything in life.
Great civilisation
Caesar admired her more because she was the product of a great civilisation. When Alexander the Great died, his empire dismembered. Ptolemy began to rule Egypt. Cleopatra, the last of the Ptolemies was a great queen of learning. She spoke 10 languages. How Cleopatra met Julius Caesar has the semblance of a fairytale. Caesar and his council of generals were contemplating how to support Ptolemy who was at war with Cleopatra to capture the throne of Egypt. Out of nowhere a Greek merchant appeared on the scene. As he had brought a bundle of rugs as a present to Caesar, he was ushered in. Pindrop silence prevailed for a few minutes.
The bundle of rugs was unrolled carefully by the merchant. Lo and behold! A stunningly beautiful woman came out of it. The intruder needed no introduction. Right before him stood the Queen of Egypt, "Daughter of the Sun" and the "Sister of the Moon.' Her charms displayed to Caesar are still fresh in the minds of men because Cleopatra has been immortalised by three leading people.
William Shakespeare immortalised her by writing his great play Antony and Cleopatra. It has been read, studied and reviewed by many generations of scholars for more than five centuries. This was followed by Jules Massenet's opera aptly titled Cleopatra. In 1963 the film Cleopatra appeared. Apart from these, many articles and books have been written on Cleopatra whose fascination never seems to dwindle. In these creations Cleopatra is depicted as a queen of great beauty with a tremendous sex appeal. Under the spell of Cleopatra, Julius Caesar fought relentlessly with Ptolemy's army and secured Egypt for her. Eventually Ptolemy drowned and Cleopatra became the queen of Egypt.
While the war was in full swing, Caesar and Cleopatra found time for a closer liaison. For some time Caesar forgot his own kingdom of Rome and stayed with his new-found love. Before long Cleopatra gave birth to a son. They named him Caesarian Ptolemy. However, all good things have to come to an end. Being a warrior, Caesar was bent on expanding his empire. So he had to leave Cleopatra. The departure of Caesar became unbearable for Cleopatra. She waited for one whole year thinking that he would return to Egypt. Then something unexpected happened. Cleopatra was summoned to Rome. She and her son set sail for Rome and later took up residence in a villa on the bank of the Tigris.
Cleopatra was summoned to Rome again, this time by Mark Antony. She sailed to Rome in a gaily decorated ship and invited Antony to dine with her. When he approached, Cleopatra was on a ship with a golden prow, sails of purple and oars of silver. She was lying there dressed in the finest of clothes. Rich perfumes and music filled the air. When Antony approached her she greeted him, "The colossal child capable of conquering the world, incapable of resisting a pleasure." Antony found himself on cloud nine.
Hospitality
Antony enjoyed Cleopatra's warm hospitality and the banquet. She showered him with expensive gifts. Soon he came under her spell. Cleopatra's unsurpassing beauty, intelligence and wit were too much to bear. Antony was so enamoured of her that he helped Cleopatra to kill her sister who posed a threat to her power.
Cleopatra's liaison with Mark Antony did not last long. After losing the battle of Actium, Antony committed suicide. On hearing the news, she also killed herself by means of an asp bite. After her death Egypt became a Roman province. What is remarkable is that there is hardly any other woman who could match Cleopatra's beauty, intellect and wit. She will remain in the human psyche for many more centuries.