Knowledge Management:
Leaders must share through discussions
Like 'time,' knowledge has to be managed. Researchers were active with time management for a very long time, but 'Knowledge Management 'emerged in late 20th century. Today it has become a hot topic. Mind-driven man is engaged in taming it for survival knowing very little about this mysterious intangible 'culprit' called 'mind'. Similarly we have an undefined word - knowledge - there is no definition as to what constitute 'knowledge'. Hence defining 'Knowledge Management' (KM) is a difficult task. However, succinctly put, it is the process through which organisations generate value from their intellectual and knowledge based assets (Internet).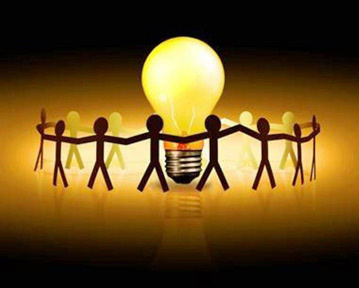 Every worker now has to find out how he can become 'a knowledge' in their organisation that consists of systems, and their boss becoming 'Chief Knowledge Officer' from traditional position of 'Chief Executive Officer' of course, their organisation becoming 'Knowledge Organisation'. The experts' view is that the progress of human beings over the past 30,000 years reflects through effective organisations. Business and all other leaders should be conversant with this topic as they may have to handle 'Chief Knowledge Officers' in developing their business and achieving human goals.
Depth
Having introduced a topic possessing an enormous depth for your continuous research, only a few salient points can be outlined in this article. Your 'mind 'is the 'Knowledge University' you should feel at liberty to explore creatively and continuously! It is said that 'ultimate challenge of the future is to liberate and amplify the knowledge and creativity of all organisational members, which will enable the rise of the knowledge organisations'. Birth of Knowledge Management is observed in the early 1990s.
It occurred amid complex problems, severe competition contributed to by every individual who accelerated demand, as sophisticated customers, influenced by modern technology.
Faced with these problems the world became aware of the importance of information and knowledge and began to search for methods to create preserve and give the right knowledge to the right people of course at the right time.
Creative minds have developed many tools such as Total Quality Management (TQM), Total Quality Leadership and nurtured by these using better business practices has become a hallmark of high performing organisations. Most recent addition, Knowledge Management (KM) is really a result of exposure to quality management environment with Total Quality Management (TQM), International standards, benchmarking, business process re engineering, lean production, value chain analysis, agility, integrated product teams, balanced score card.
The societies which have not had a proper exposure to these practices will not be able to benefit by Knowledge Management immediately.
Resources
In this context our society in Sri Lanka has to face many problems.
As a solution immediate step should be taken to enlighten the business leaders and leaders in other important areas such as education and make use of existing developed organisations in the country as resources.
A state bank which received ISO recently for a single unit in their vast organisation can very well educate their entire work force using this unit. They have already set an example for other corporates.
Their target should be to develop a suitable culture throughout the organisation covering the entire network of branches not limiting to the unit possessing ISO certificate and the international Division connected to that unit.
This action will pave the way for transforming the bank to a 'Knowledge Organisation'.
Today tendency is to admire the knowledge. People with knowledge are respected, but very few think of methods to make use of that knowledge for advancement of organisations and people. Performance improvement through productivity improvement by so-called advanced nations have taken a quite a long period for the agricultural economy to change into industrial economy, which is now entering into an IT led economy.
Asset
They have identified knowledge as an asset and the most important product of any organisation is 'knowledge'.
Do they think that the human resource can be trained at any moment if the knowledge is available to bootstrap the organisation effectiveness?
Concept of organisation learning in support of knowledge management is new. Hence leaders must continuously share the knowledge through discussions among themselves - one on one meetings can bring amazing results as 'secrets' too can be discussed which are beneficial amicably.
Knowledge stored in a computer is just data. If they are arranged in a way to use, it can be called 'knowledge' Irrespective of whatever form we come across the information cannot be called knowledge until we develop strategies to dig value out of them. Volumes have been written in this field and are being researched into which keep expanding day by day.
What should be highlighted is the areas affected by inherent weaknesses of human beings.
One such area is 'knowledge sharing 'supposed to be 'the key to Knowledge Management which ranks next to creativity.' The mantra within the knowledge management community is that 80 percent of knowledge management is people and culture, and 20 percent is technology.' (Jay Liebowitz and Yan Chen) General tendency is to try to share what is available externally.
Even media are emphasising on the right to know the truth and seeking the support in the name of human right preservation. But most of the organisations are unable to see the value in sharing knowledge internally.
Corner stone
Researchers have revealed that the knowledge sharing has become a corner stone in many top companies.
One of such leading company's reputation is built on a strong knowledge sharing culture has in their systems containing many thousands of tips to help technicians worldwide to repair a product of theirs which proves the point well.
Researchers are of the view when the knowledge is more specialised (experts) it is harder to extract the knowledge. Naturally it makes knowledge sharing a challenging task.
As the 'carrot and stick' policy will not be effective in this arena, we have local business leaders who are capable of finding novel solutions creatively.
The term 'knowledge sharing proficiencies 'has captured attention of researchers.
The term is defined as 'an attribute that allows the creation of knowledge to take place through an exchange of ideas, expressed either verbally or in some codified way.' (Jay Liebowitz) In local context, can our organisations (including universities) in the way internationally famous organisations have knowledge fairs designed to encourage knowledge sharing and to form colleague to colleague relationships for better transfer of tacit knowledge.
Results
The concept attracting globally should bring better results locally as this is part of our culture - helping each other.
Another method used in Canadian organisation namely, Public Service Commission has made 'Knowledge, Information and data should be shared' as one of their four guiding principles.
A team of consultants has developed knowledge sharing proficiencies for a department, listing items under the heading 'Thinking of We, not Me: Sri Lankan culture is well developed to go deep in to this area.
As obstacles, we can show the knowledge hoarding culture in some of our organisations. Some people, researchers have found, are reluctant to share their knowledge internally with colleagues and others due to a self-preservation mentality.
The leaders with the foresight of seeing the advantages of knowledge management will appreciate the need for knowledge sharing as an effective tool. If individual employees can be made to feel as a part of the organisation because of their knowledge, which naturally ignores ethnic and religious origins, it will help us to overcome the ethnic problem in this country permanently and also to set another example for other countries in the world to follow!
Email: olos_e @yahoo.com