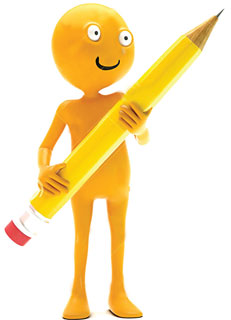 Winner: A pencil speaks
My name is Atlas. I am yellow. I am made of wood and lead. I have to be sharpened before use. I am long but when I am used I become short. I am very pretty because of my colour. I was made in a big factory in Sri Lanka. I like to perform well for children. When I was in a bookshop a little girl came and bought me for Rs. 12. I was very happy because she uses me very carefully.
My owner is Mihashi. She sharpens me once a week in a very kind manner. She does not hurt me and put me in ink. She treats me very kindly and is a very good girl. I help her to write well and her handwriting is clear.
---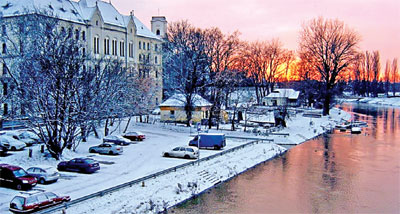 Winner: A happy event
I have a pen pal in Hungary. Her name is Kata. She wrote to me about the winter and snow in her recent letter. I replied her and said that I have seen pictures of snow on television, newspapers and magazines. It looks beautiful with all covered like a white blanket. A few days later, I got an e-mail from my friend informing me that she had sent a video of the winter in her country. I opened the video and the film started. It started with my friend Kata writing my name "Hamna" on a thin layer of snow. My father and mother too were watching the video with me.
I was thrilled to see this. I did not dream of getting my name written on snow and seeing it. My happiness had no end. I watched this video over and over again. It was just a two-minutes video, but the way Kata made me happy will remain forever.
---
Winner: The prefects' induction ceremony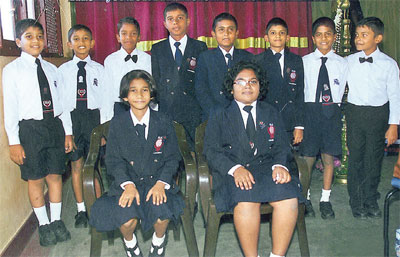 Our prefects' induction ceremony was held on February 7. It was held at the YMBA hall, Kurunegala.
The chief guest was the founder of our school Dr. Newton Peiris. The welcome speech was delivered by the newly-chosen Head girl.
Later the prefects were introduced and the badges were pinned by the parents. The school choir and the dancing troupe entertained the gathering.
The chief guest delivered a speech explaining the duties and dedication of young leaders. He also encouraged the other students. Later the deputy head girl proposed the vote of thanks.
I was also selected as one of the junior prefects. I was very happy that day. My next aim is to be the Head boy of the senior school. I will work hard for it in the field of studies, sports and extra curricular activities.
---
Winner: My ambition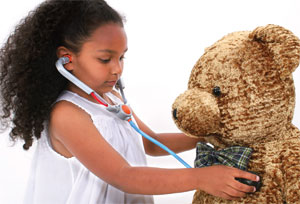 My ambition is to be a doctor. I like this job very much because I can treat patients well. I must do my best at the examinations and pass with high marks. I know that I can do it easily, because my favourite subject is science.
As I want to be a doctor, I will have to face many barriers and obstacles. I will work hard and overcome the obstacles. I had a dream to be a doctor when I was small. From that day I am working hard to achieve it. I go to school and do my studies well.
I never neglect my home work. I always learn and work to win my teacher's hearts. They help me to do my studies.
My determination, dedication and the encouragement given by my teachers paved the way for my success. I work methodically according to a timetable. It is a very successful method to guide all children. As I like science I expect to do my A/L's in science.
When I become a doctor, I would spend money for the sake of poor people. I also can treat them as a good doctor. I always keep in my mind my ambition and I will achieve it. Since my sister is a doctor I will follow her path. She advises me all the time. I hope to do many things for my country and for my family too.
Therefore, I will work hard and fulfil my ambition.
---
Winner: Harmony of Kandy
In the middle of the city
Is a sight of lively beauty
Named as the Lake of Kandy.
Amidst black shadows of traffic and smoke
It soothes no man in the least
But to the highest of its peak
Soothes the souls not only of humans
But also of animals and trees.
It's crystal clear waves reflects
The Sacred Temple of the Tooth Relic worth respect
Showing an honour of great dignity
Air is so fresh around the historical city.
Second to no other place
Glistens with lights and stars once the sun's off duty
Singing a song in a rhythm, hidden in the depth of its sands
It lies in the city of Kandy
Gently does it dance every hour
Miraculously lying unshaken
As if in fear of deteriorating.
But none nor Kandy gets tired of its fragrance
Since it's a throne to the lives of the many.
---
A trip to Nuwara Eliya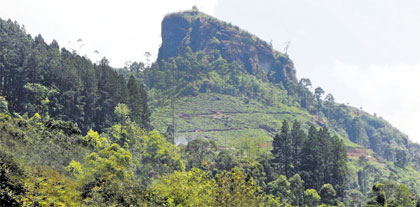 During my last school vacation, I went to Nuwara Eliya. I went with my family. We went by van. We went to the temple of the sacred tooth relic on our way. I saw the Victoria dam. It was a very beautiful sight.
Then we went to Mahiyangana temple. I saw Sora Bora wewa too. At night we came to Nuwara Eliya. There were a lot of tea estates and mountains. I felt very cold. I was there for three days. I went to see Horton Plains, Piduruthalagala mountain, Nuwara Eliya park, Gregory park and Macwoods tea factory.
I enjoyed myself a lot in Nuwara Eliya. I will never forget my trip to Nuwara Eliya.
---
Communication
Communication is the act of exchanging information, news and ideas. Along with the origin of the human race, the need for communication sprang in man. So in the course of time, he got used to different methods and tactics to get at his necessity.
The primitive and predominant things that man used to communicate with each other were sounds, symbols and pictures. With the passage of time these elementary factors laid the foundation for the evolution of language. When man wanted to divide or demarcate his private property, there also arose the necessity of counting. This was done with the fingers of both hands and feet. Later on, man discovered many patterns of counting systems and mathematical calculations.
His next immediate necessity was a machine that could calculate fast. In the meantime, the print media of communication came into being with the invention of paper and printing techniques.
By the end of the 19th century man was able to discover the means of storing letters, digits, sounds and pictures in a magnetic field.
Along with the invention of the telephone, radio, television and the computer, the communication technology improved in leaps and bounds.
Now it is the computer that has become the giant of process of communication of information. It deserves this state as it towers over all other media because of its ability to store, organise find information, do calculations and control other machines.
Though the computer technology started to pervade the world around 1960s it began to spread in our country at the end of the 20th century.
Now in our country too the computer is used in every field. Almost all private, government institutions and factories have been computerised. The great speed and accuracy, storage capacity and the multitude of functions provided by the computer help man to save his time and energy.
Furthermore, with the introduction of the internet facilities, the capacity of the computer has been very much broadened. By gaining access to the internet, one could gain access to a vast treasury of global information and knowledge.
---
My favourite hobby
My hobby is reading books. A hobby is what we like to do during our leisure time. There are so many books at home. I have a small library at home. I started reading books when I was in grade two. My younger brother and I read books during our free time. My parents buy me books. My hobby gives me knowledge and pleasure.
I read different books such as novels, short story collection and anthologies of poetry. Sometimes even my friends give me books for my library. I also give them books in return.
Even when I go on trips I carry a book. I cannot spend a day without reading a book. After reading a book I speak to my friends about it. Sometimes they also have read the same book. So it is a fine way of learning.
Our school library has a lot of books on different subjects. We borrow books for two weeks, read them and return to the library. The library is useful. We cannot buy all the books we want to read.
There is a public library in Panadura. On school holidays I go there to read books, newspapers and magazines. The librarian helps me to select good books suitable for my age. All students must cultivate the habit of reading. It is a good way of learning and spending the time meaning fully.