Cover: Looking around gleefully
Our staff photographer Thilak Perera visited the Kacchatheevu island when the Kachateevu festival was held. Indian fishermen visit the shrine for the festival annually. Here a little girl gleefully clutches a mat in the vicinity of the church looking for a spot to rest her tired body.
St. Anthony, the patron saint of fishermen and the seafarers, according to the belief of the Catholics, has given, this one and half square kilometres tiny dotted, uninhabited island of Kachchatheevu in the Indian ocean, such prominence for fishermen from Sri Lanka and India.
The fishermen from both countries believe that the small shrine dedicated to St. Anthony located in the tiny island is blessed and that their lives will be protected and their fishing life will prosper once they receive blessings from this shrine at least once a year.
---
Back cover: In the wild of Horton Plains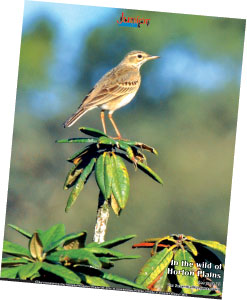 Our staff photographer, Susantha Wijegunasekera captured this photograph of the lone bushlark perched on a branch of a tree on a recent visit to the Horton Plains.
The Rufus Bushlark is a common breeding resident of the low country Dry Zone. It is uncommon in wet lowlands. It lives in pairs and inhabits open country such as paddy fields and scrublands. The Bushlark has a remarkable courting behaviour of parachuting down with wings open and legs dangling after rising about 20-30 ft in the air. It feeds on several ground insects such as grasshoppers. Unlike the Oriental skylark, it often perches on bushes, fences, dead tree branches and such places and utters its song. The breeding season is from March to July and it builds a well concealed nest in a small hollow at the base of a tussock of grass and lays 2-3 eggs.