Lending her voice to millions around the world
Pope Francis I, Hope for Christian Unity
Author: Gwen Herat
Reviewed by Prof. Viraj Fernando
Printed by the Associated Newspapers of Ceylon Ltd. and brilliantly written form the heart, "At last' Gwen Herat says, 'the Shepherd has arrived' But I say 'At last such a book has seen the day that will gladden the hearts of millions around the world who collectively voiced this cause for years'.
In a country that is essentially Buddhist for voice to rise across the universe, is truly an achievement no matter in what direction the message spreads. It is with a sense of solemn responsibility that she declares her sobering intent to reach every heart and this she does with such finesse that will light up millions of flickering flames. Gwen Herat is such a wonderful writer blessed with intensity that she writes effortlessly with a greater consistency of appeal to one and all. In Pope Francis, Hope For Christian Unity she attains a closer conformity to the Holy Scriptures.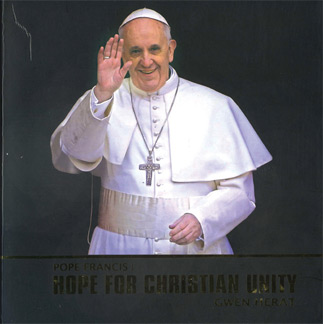 How she breaks away from the tight rigours of her literary stance to serious writing is amazing. Nothing held back, the book touches the inner chords of all Christian hearts. She has not mixed her language talents as the book unfolds from, the first page to the last. Selecting her words of praise for the Holy Father can be a demanding experience but Herat sails smoothly surprising veteran writers. The intent of the book can be centuries-old with no positive transparency and rightfully as she says, someone has to address the issue which she finds in Pope Francis 1.
Admiration
How can we hold back our admiration for a writer who traps falsity in faith and seek the boundaries of true spirituality which is not easy in a world that has lost its faith in God. She captures the true vision of the Lord; captured brilliantly and researched accurately. The nuance she gathered from Pope John Paul 11 has been the driving force behind this delightful book. The substance of this spiritual recording commences from the point at which she meets Pope Paul 11 and ends with the present Pope.
In an earlier book review I quoted 'Gwen Herat looks at things how they should be looked at. God in his infinite glory; nature in her lush abundance as well as life in perils. They all attribute to her solid character. If she is in search of the gospel of classicism, she has to be broader and step to an interlined order. For her the doctrine of classicism suffices its movement.'
I think these policies in writing has influenced her struggle with theology that make Pope Francis such a readable and absorbing book.
I like how she handles the issue on celibacy and its resultant horrendous effects on the clergy and the young innocence, not denying how hypocrites are made of some who practise it.
Sinful practice
However, I cannot understand why Herat had to overexpose the cause of homosexuality which is not appropriate to the rest of the book because it is not confined only to the church but rampant with the rest of the world in escalating proportions who are engaged in this sinful practice.
Since it comes under the title Anglicanism and its perspective on Homosexuality and the writer being an Anglican would be reflecting in a different perspective but contains a lot to learn from this chapter.
I have never come across such a touching moment as she confronts Bishop Mendis before Jesus as though it really happened and not symbolic (p86). Here Herat surfaces such an intimacy filled in humility. There is beauty and a haunting spiritual understanding for each other as Jesus speaks to his loved one.
Dan Brown with his fiery colossal reputation could never have come up with an idea as simple as it appears when she leaves him behind on his famous tracks. She concludes on an endearing message of love for the cross in the back page with a simple reminder for all with so much anguish and hope in her beautiful heart.
A striking hand-bound hard cover with a smiling Pope to enter into the corridor of future visions on all his scattered sheep that will bleat together. This is the strength behind this book which will gain momentum in the days to come.
The writer is Emeritus Professor, Harvard University