Mechanism in place to deal with any issues:
Govt vindicates its stand
Environment and Renewable Energy Minister Susil Premajayantha said that the Government's position on the resolution against Sri Lanka remains unchanged and that it would not permit any international investigation on the incidents in Sri Lanka during the final phase of the humanitarian operation.
The Government maintains the position that it has the legal and social mechanism to deal with any issues among communities in the country.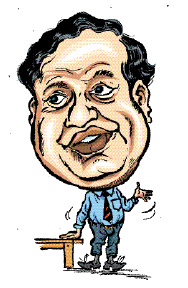 "We don't need any external or international investigation on internal matters or incidents which had been reported during the period when terrorism was defeated, the Minister told the Sunday Observer yesterday.
The Minister said this is yet another resolution passed at the UNHRC. They have passed many resolutions against other countries too but nothing happened. They can't launch any investigation on Sri Lanka without the consent of the Government. If any investigation is conducted by the UN High Commissioner for Human Rights Navi Pillay, it will be biased. "I don't know whether we can go to the international court regarding this biased investigation.
If there is an international court which could take action against Navi Pillay, we would explore that possibility as well. There is a much evidence to prove that she is biased.
Can such a biased person launch an investigation against a country? Although the resolution has been adopted, we should look into the legality of holding an international investigation against Sri Lanka."
Minister Premajayantha said that we should ascertain as to why these Western countries are so keen about Sri Lankan internal matters when there are grave human rights violations in other countries. We defeated the three decade-old terrorism without any support from these Western countries under President Mahinda Rajapaksa's leadership.
These Western countries had failed to defeat terrorism in the Middle East. Even if they could, they will not do so. Hence they can't interfere with the internal affairs of such countries.
The situation in these conflict-hit countries is deteriorating rapidly due to the interference by the Western countries. After 30 years, Sri Lanka successfully ended the war against terrorism by setting an example to the entire world, the Minister said.