Cattle transport ban lifted islandwide
The Department of Animal Production and Health has lifted its temporary ban on cattle transport islandwide.
It has also re-introduced its artificial insemination program which had been temporarily halted in the affected areas and informed the public that milk collection centres were now fully operational. The disease which infected 12,000 animals, resulted in the death of 250 head of cattle and 250 swine.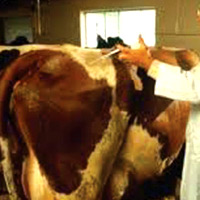 "The disease is well under control. We have no reports of fresh cases, except Mannar where there is only a mild outbreak", Director Animal Health, Department of Animal Production and Health, Dr A. Sivsothy told the Sunday Observer.
He said the Department imported over 60,000 doses of vaccine from a neighbouring country for the first time after several years to overcome the present shortage of vaccines. This will be supplemented with 200,000 doses of locally produced vaccine as routinely only 50,000 doses are dispensed per month.
The Health Ministry has also decided to call upon farmers to double their vaccine doses per year.
"Instead of one dose per year, we have asked them to vaccine their animals twice a year, which is a global requirement. Every farm animal should be vaccinated three months after birth", he said. Although the ban has been lifted islandwide, he said that restrictions would be imposed in any area where a suspected case of HFMD was reported. "If confirmed, the local veterinary doctor will promptly close the slaughter houses in the area, stop the transport of livestock animals, and stop collecting milk in such areas.
"This disease cannot be transmitted to humans, and the public need not panic. It affects mostly farmers due to the economic costs involved", he said.