Surge in vector disease
The Health Ministry has warned that vector borne diseases now spreading in the country could spike, due to the prevailing dry weather following heavy rains.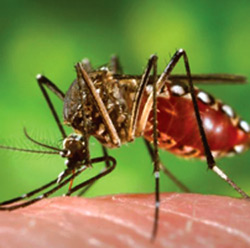 "We now see an increase in Dengue and Leishmanias (caused by sand flies) cases. Diseases such as Lymphatic Filariasis and Japanese Encephalitis and Malaria caused by mosquitoes can re-emerge and spread, if mosquitoes continue to multiply," Health sources said. Ministry spokesman W.A.D. Wanninayake told the Sunday Observer that WHO Representative Dr F.R. Mehtha held discussions with Health Minister Maithripala Sirisena recently to launch an Integrated Vector Management program with several ministries including the media, to check the spread.
Apart from cleaning up operations high risk populations will be warned on the need to safeguard themselves from such vectors.
Residents in Anuradhapura and Ampara who are vulnerable to Cutaneous Leishmaniasis will be cautioned to cover exposed legs, feet and arms with long trousers and long sleeved shirts and thereby protect themselves from sand flies, he said citing an example.
Dengue is still widely prevalent in the country, with nearly 6,500 suspected cases mainly from the Western Province reported to the Epidemiology Unit since January this year.
The Health Ministry is thus poised to launch its first Mosquito Control Week from April 2-8.
A media briefing on the Prevention and Control of Vector-borne diseases will be held on April 1 at the BMICH, and a website of the National Dengue Control Unit was also launched under the Presidential Task Force on Dengue Control.
Yesterday's Technical discussions also focused on the current, past and re-emerging vector-borne diseases, with health officials seeking the support of all sectors of the public to make this collaborative effort, a success.