Financial assistance for kidney patients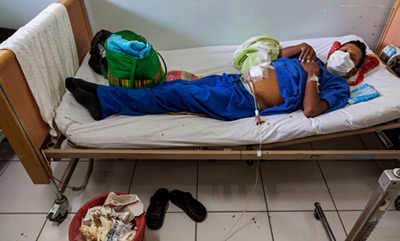 President Mahinda Rajapaksa has already banned importing harmful pesticides to Sri Lanka having considered its ill-effect on the people's health said Special Projects Minister S.M. Chandrasena at a media conference held at Kurunegala. He said over 5,000 acres of paddy would be cultivated with indigenous varieties without-using chemicals and artificial fertilizers. These indigenous paddy varieties have the potential to resist kidney disorders effectively. This has been proved scientifically by now.
The Government has decided to provide financial assistance to positive kidney patients to meet their medical needs.
They will be paid a monthly allowance of Rs. 1500 while those diagnosed as being criticle will be paid Rs. 3000.
Steps will also be taken to provide pure drinking water to residents who live in areas where many positive kidney patients are found.
The excessive use of poisonous chemicals on food crops by the farmers has resulted in natural water resources being contaminated. This has led many people fall victim to the kidney disease and cancer. The government will do everything possible to encourage farmers not to use such poisonous chemicals on food crops this year.
Over 70,000 farmers have been trained to make the environment - friendly carbonic fertilizer.