observer
ONLINE
---
---
OTHER LINKS



News in Pictures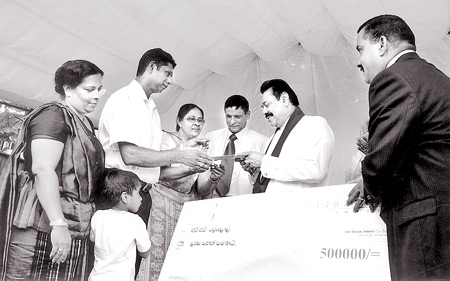 The first claim under the 'Supasan Guru Pawra' Insurance Scheme for employees in the Western Province Education Ministry was paid recently, on the premium taken by the late H.K.D.G. Priyawangda. Here President Mahinda Rajapaksa presents a cheque for Rs. 500,000 to the late employee's husband. Western Province, Chief Secretary, Jayanthi Wijethunga, Education Secretary, S.T. Kodikara, Swarna Fernando and Principal, Dharmapala Vidyalaya, Kottawa, C.B. Kodikara are also in the picture.
Pic: M.S.M. Munthasir, Panadura Central Gr. Cor.
---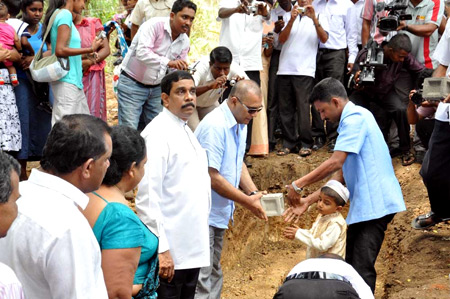 Local Government and Provincial Councils Minister A. L. M. Athaullah laid the foundation stone for the new office building complex costing Rs. 30.7 million which will be funded by the Economic Development Ministry under the 'Pura Neguma' special development program. Here the Minister Athaullah laying the stone at the site. Ministers Jagath Pushpakumara, Sumeda G. Jayasena, Ministry Secretary R.A.A.K. Ranawaka, 'Pura Neguma' Project Director Ananda Gamage and Wellawaya Pradeshiya Sabha Chairman were also present.
Pic: I.L.M. Rizan, Addalaichenai Central Cor.
---
Sri Lanka - China legal luminaries promote friendship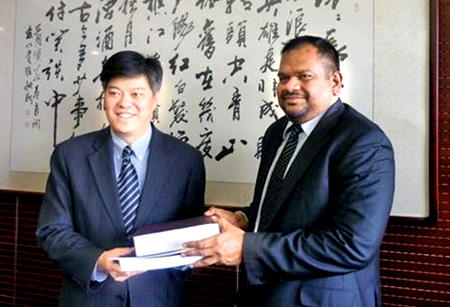 Attorney-at-Law Rasanga Harishchandra, President of Sri Lanka-China Legal professionals Friendship Forum and Member of ASLCSCC paid a goodwill visit to the Beijing Lawyers Association recently during his visit to China. He had a fruitful discussion with Wang Weidong, Council Member-Director-External Affairs Committee of Beijing Lawyers Association on promoting friendship between legal professionals of Sri Lanka and China. He presented law magazines, Colombo Law Society journals and related publications to the Beijing Lawyers Association.
---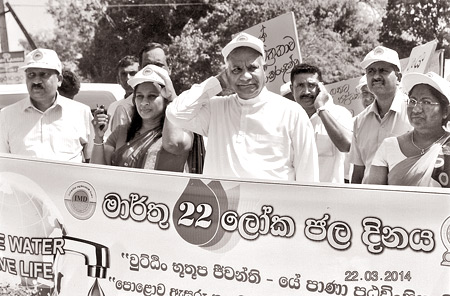 The member of farmer organisations in the Nuwarawewa and Tissawewa irrigation schemes and the Irrigation Management Division (IMD) of the Ministry of Irrigation and Water Resources Management, Anuradhapura organised a walk to mark World Water Day 2014. Deputy Minister of Irrigation and Water Resources Management, W.B. Ekanayake, Additional Secretary to the Ministry of Irrigation and Water Resources Management Mrs.
Shantha Wijayarathna, Director IMD Mrs. Chandika Ethugala and Media Consultant to the Minister of Irrigation and Water Resources Management, Wiraj Abeysinghe were also present. Pic: Mohamed Imtyaz, Colombo Central Spl. Cor.
---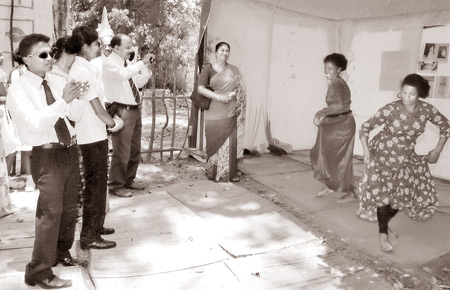 The Galle Music Festival 2014 was held recently in Galle organised by the Norwegian Embassy, and Aru Sri Rangayatana. Here the Chief Guest Governor Southern Province Dr. Kumari Balasuriya, being welcomed by the "Kapirinja Dancers". Pic by Dr. Richmond Wijesekera, Bentota Group Corr.
| | |
| --- | --- |
| | | EMAIL | PRINTABLE VIEW | FEEDBACK |