Nalanda Last won 'Big Match' in 1953...:
Better showing this season gives Ananda edge in 85th clash
With both teams having batting as their forte, the bowlers of either side will have to provide something out of the 'box' to obtain a favourable result when the two leading Buddhist institutions of the country Ananda and Nalanda meet each other for the 85th occasion in the 'Battle of the Maroons' annual school cricket encounter on April 4th and 5th at the R. Premadasa Stadium, Khettarama.
A 'Big Match' win for Nalanda is long overdue as it occurred in 1953, sixty years hence, under the leadership of W.W.Silva and the Ananda captain on that occasion was Henry Seneviratne. But despite this set back, both Nalanda and Ananda have produced the bulk of the country's national and Test cricketers too vast to mention.
But mention has to be made of players like Bandula Warnapura, the first 'Test' cricket captain of Sri Lanka when he was at Nalanda and the World Cup winning captain Arjuna Ranatunga, Marvan Atapattu and the present T20 captain Dinesh Chandimal from Ananda and Mahela Jayawardene from Nalanda are all proud products from the respective schools.
Ananda has a better record this year during the season by remaining unbeaten in their 16 matches played to date. Ananda won against Wesley, Maliyadeva and Dharmasoka.
On the other hand, Nalanda has won against St.Sebastian's, Moratuwa; but lost to De Mazenod, Kandana; Trinity and Mahinda.
Thamalka Athulathmudali
Ananda will be captained by Thamalka Athulathmudali who has been faring well with bat and ball. Kushil Perera is the deputy of the side. Wicketkeeper Pasindu Ishara remains the most consistent batsman of the side, scoring over 850 runs inclusive of three centuries.
Sahan Arachchige who crossed over from Bandaranaike MV Gampaha is the second best with 740 runs with three centuries against his name. Middle order batsman Shammu Ashan playing in his first year and has been striking the ball well with 512 runs with two centuries. With this trio among the runs, Ananda's batting looks quite stable.
In bowling, left-arm spinner Isuru Gunasekera has been the pick of
Ananda bowlers. He has taken over 90 wickets with the best figures of 7 for 40 against Wesley. The second slow left-armer Sandakelum Pathirana has been supporting Gunasekera and has taken 49 wickets for the season. There are four medium pacers in the side, namely Sahan Arachcige, Tharana ravindu, Dinuka Jayaratne and Kasun Perera who has played early in the season and has taken over 25 wickets.
Woshantha Silva captains Nalanda
Nalanda's batting seems to be extremely strong with five of their top order batsmen passing the 500 run mark. Skipper Woshantha Silva leads the way with 602 runs which includes a hundred and three half centuries. Senura Amarasinghe (430 runs) with two half 'tons'.
Opening bowler and middle order batsman Malinga Amarasinghe ( 553) runs and 27 wickets, the deputy skipper Pramuth Hettiyawatte 528 runs and over 50 wickets has shown his all-round qualities with Lahiru Wijeratne who has around 340 runs and over 50 wickets.
Ananda's last win in this encounter was in 2003 under Damindu Kularatne and the Nalanda captain that year was Sanjaya Gangodawila.
Former Sri Lanka left-arm leg-spinner Yohan Gunasekera (8 for 32) of Nalanda holds the record for the best bowling analysis while Nalandian Shantha Kaolavitigoda who later went on to represent the country has the highest individual batting record 149 n.o . Roshan Mahanama also scored an unbeaten 146 for Nalanda and Thilina Kandamby 144 remains the top scorer for Ananda in the big match series.
Teams
Ananda College (from): Thamalka Athulathmudali (Captain), Lakkana Jayasekera, Kushil Perera (V.Captain), Pasindu Ishara, Sahan Arachchige, Dasun Wijesinghe, Nisal Francisco, Shammu Ashan, Tharana Ravindu, Isuru Gunasekera, Sandaken Pathirana, Senal Koralage, Dileepa Jayalath, Nipuna De Silva, Danuka Jayaratne, Kavishka Anjula and Kasun Perera
Nalanda College: (from): Woshan De Silva (Captain), Senura Amarasinghe, Isuru Samarasinghe, Malinga Amarasingjhe, Avishka DE Silva, Premuth Hettiwatte (VC), Lahiru Wijeratne, Dilan Samaraweera, Anuthara Madawa, Ruchita Perera, Dasun Seneviratne, Dilan Dilpriya, Kavindu Bandara, Ravin Dassanayake, Thilina Ratnasena, Kanishka Nirmal, Malik Peiris and Aroshan Nipun.


Ananda College - Seated from left. Chamil Perera, Vipula Sittamige (Coach), Isuru Gunasekera, M.M.C.K. Mahamithawa (Deputy Principal), Thamalka Athulathmudali (Captain), Kirthie Liyanagamage (Principal), Rukshan Perera, F. Welege (Deputy Principal), Jagath Alwis, Priyankara Nandasena (Master-in–Charge). Standing from left. Nisal Francisco, Dinuka Jayaratne, Pasindu Thirimadura, Lakkana Jayasekera, Dasun Wijesinghe, Sahan Arachchige, Tharana Ravidu, Sammu Ashan, Shenal Korale, Sandaken Pathiurana, Kasun Perera, Dileepa Jayalath, Nipun de Silva, Kanishka Anjula.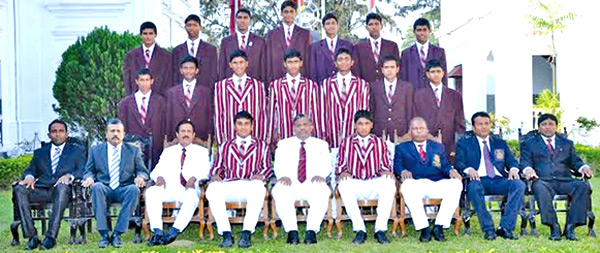 Nalanda College - 1st row seated. From left: Nishad Eranga (Assistant coach), M. Wickremasinghe (Cricket Coordinator), Ariyaratne Bandara (Deputy Principal), Woshnatha Silva (Captain), Col. Ranjith Jayasundera (Principal), Pramud Hettiawatte (V. Captain), Ranjith Mallawarachchi (Prefect Of Games), Chadana Hemasiri (Master in Charge), Sampath Hettiarachchi (Head Coach). Middle Row: From left. Kanishka Nirmal, Lahiru Wijeratne, Senura Amarasinghe, Avishka de Silva, Malinga Amarasinghe, Thilina Rathnasena, Ravin Dassanayake. 3rd row. From left. Aroshana Nipun, Dasun Seneviratne, Malik Peiris, Aruththana Madawa, Dilan Samaraweera, Isuru Samarasinghe, Kavindu Bandara.