Lanka to launch solar hydro integrated project
Sri Lanka has huge potential to generate solar and hydro power as the country has enormous natural resources, Hanergy Group China, Vice President Helen Zhang told a seminar on 'Solar Energy- Integrating Solar and Hydro Power Sources for Sri Lanka' in Colombo last week.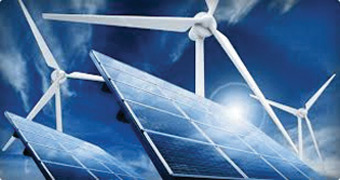 She said that Sri Lanka has solar energy and water resources compared to many other countries, which is a distinct advantage to harness the resources for power generation that would help the country save on costly conventional energy sources and promote clean energy.
Sri Lanka's average sun hours per day is 5-5.9 hrs while in Germany it is 2.2 hours a day.
"Conventional energy sources such as oil, coal, peat, uranium are depleting rapidly in the world, which is now focusing on harnessing non-conventional or renewable energy sources such as wind, solar, tidal wave, biomass and hydro for power generation which is cheap and environment friendly," Zhang said.
Energy sector experts believe that all conventional energy sources will become rare, endangered and extinct as they produce a large amount of carbon dioxide that adds to the greenhouse effect in the atmosphere and all non-conventional sources will become conventional, common as they are free, green and emit no carbon dioxide.
The seminar was organized by Meewella Holdings and Hanergy China and China Manufacturing Corporation which is a leading manufacturing company in China.
Sri Lanka spends a staggering amount each year on costly thermal power based electricity generation as hydro and solar power generation has not being fully harnessed. The weather pattern and drop in water levels also affects hydro power generation. Sri Lanka targets to achieve 20 percent power generation through renewable energy sources by 2020 and 100 percent electrification of households by 2015. Few private sector entities operate mini hydro plants and windmills in Sri Lanka.Setting up the largest solar hydro power project will boost cost effective sustainable development in the country.
The project will mark a new beginning in the power sector in Sri Lanka. "We are confident that Sri Lanka will gain immensely from the solar hydro power integrated project and fight climate change more effectively," Zhang said.
The Hanergy Group is a clean energy power generation company. private clean electric power enterprise.