Correspondents should keep abreast of changes - Seelaratna Senarath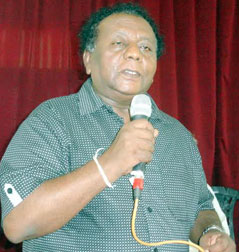 Lake House correspondents should face challenges of the changing modern world.
They must render a useful service to the society and protect the image of the country, said ANCL (Lake House) Editorial Director Seelarathna Senerath at a meeting attended by Thinakaran Associate Editor K. Kunarasa and Ampara District Lake House Tamil correspondents.
The meeting was organised to resolve the problems and obstacles confronting the provincial correspondents.
A large number of correspondents from the Ampara District was present at the Alayadivembu Swami Vipulananda Children's Home. Ampara District Journalists' Federation President Meera S. Issadeen presided.
Digamadulla District parliamentarian P.H. Piyasena and Alayadivembu Divisional Secretary V. Jegatheesan were also present.
Seelaratne said, that shortcomings would be rectified and modern technologies introduced. Media personel should keep abreast to the current changes taking place.
We commended the Lake House correspondents who worked with devotion amidst difficulties.
"During the tenure of Managing Director Bandula Padmakumara vast strides have been made in the media field" he said.
He said that he found that the ANCL Thinakaran Editorial staff is always co-operative and extend their co-operation to the management to facilitate administration relating to decision making and other activities of the company.
The Director Editorial Seelaratna Senarath was draped with a golden shawl for his outstanding services rendered to the media by parliamentarian P.H. Piyasena at the meeting, followed by the release of the 'Vipulam' souvenir presented to him by the President, Vipulananda Children's Home, T. Kailayapillai.