Over Rs. 700m for welfare of women and children - Minister Karaliyadde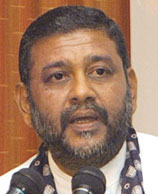 The Ministry of Child Development and Women's Affairs will set up model daycare centres to ensure the safety and care of little children.
These model daycare centres would be introduced to provide guidance to the guardians of daycare centres in the country.
Minister of Child Development Tissa Karaliyadda told Sunday Observer recently that under the first stage of this proposed project, model daycare centres would be set up in six administrative districts of the country at a cost of Rs 7.6 million.
Accordingly, these model daycare centre would be set up in Batticaloa, Kilinochchi, Nuwara-Eliya, Moneragala, Polonnaruwa and Anuradhapura before the end of the year.
"President Mahinda Rajapaksa has instructed me to launch programs to do away with child abuses and violence on women in the country and 700 million rupees has been approved for my ministry by President Rajapaksa to carry out human friendly and welfare activities for the benefit of children and women in the country".