Rosmand Senaratne appointed Media Advisor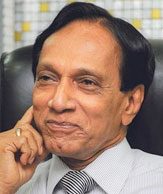 Rosmand Senaratne has been appointed Media Advisor to the President on Religious and Cultural Affairs.
Senaratne joined the then Radio Ceylon in 1966 as a Technical Officer and served SLBC, ITN and the SLRC as Senior Technical Officer. Later he became Deputy Director and Acting Director of Marketing and Commercial Operations of the SLRC.
In 1995 he joined ETV as its Managing Director.
He was the Director-General Manager-cum-Director News (Live @8) of the Swarnavahini, before he was appointed CEO of Sath FM and later Director of the Sri Lanka Television Training Institute.
He was appointed Chairman/CEO of ITN in May 2010. He tendered his resignation on September 3, 2014.
Rosmand has served in all spheres of the electronic media such as engineering, program, news and current affairs, marketing and commercial operations and overall media management completing 48 years of service in the field.
He continues to moderate TV programs on in-depth Buddhism and spiritual education, since 1997.