World Car-Free Day:
For a cooler planet
"Think of bicycles as ridable art that can just about save the world." - Grant Peterson
World Car Free Day is gaining popularity as an international event celebrated every September 22 in which people are encouraged to get around without cars and instead go by public modes of transport such as train, bus, carpool or van pool. They could ride a bicycle, take the subway or walk.
The Day is organised in various cities throughout the world in different ways. The main goal is to reduce the number of cars on the streets. It benefits the society in an enormous way with less traffic congestion, a greener environment and reduced gasoline demand. It also aims to show how liveable modern cities can be when free from the noise, stress and pollution caused by cars.
This Day is but a small step towards taking the heat off the planet where city planners and politicians will hopefully give priority to cycling, walking and public transport, instead of to the automobile.
Car Free Day is celebrated in 1,500 cities in 40 countries.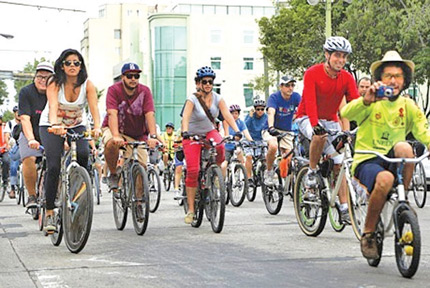 Sandya de Silva, a government servant expressing her view said, "World Car Free Day is a good day to celebrate. Usually in the morning there is a huge traffic jam so we can avoid it if people travel to their workplace and destinations using the public mode of transport or by walking. It need not be celebrated on that particular day only but can be celebrated everyday. I think it is best if the public transport system works well in Sri Lanka."
Pollution
"If it happens it is good but I don't think that it will happen. If such a system comes into practice I think we can be free from diseases and pollution. People should be informed prior to this day because many are not aware. However, it is not practical in Sri Lanka because we don't have a good mode of public transportation system." says Prabuddha Athukorala.
Dayan Sahabandu, a young executive says, "I usually use the public mode of transport. This particular day was invented in the developed countries and I think that it is not practical for a developing country such as ours. The 365 days in a year is a car free day for us."
Car-free days were organised as early as during the oil crisis of the 1970s and several car-free days were organised in European cities during the early 1990s. An international car-free day was organised in Europe in 1999 which was the pilot project for the European Union's "In Town Without My Car" campaign. This campaign continues as European Mobility Week.
The World Car-free Network coordinates the promotion of global events of the World Car-free Day from its offices in Prague, Czech Republic. Activities of the Network include the publication of the quarterly Car-busters Magazine and other car-free related literature, and conducting the annual Towards Car-free Cities Conference.
The car-free movement is a broad, emerging network of individuals and organizations brought together by a shared belief that cars are far too dominant in most modern cities.
The goal of the movement is to create places where car use is greatly reduced or eliminated and to liberate road and parking space for public use.
We can celebrate this day by getting together with various groups and potential partners in our community to begin the dialogue on Car Free Day.
Representatives
Local community officials, elected representatives, community groups and environmental non-governmental organisations are all groups that can help and benefit from a Car Free Day in their community. We can set up meetings and brainstorm on what would work in our community.
We could enlist the aide of groups that would most benefit from the day once we have brought some of these groups on a side. Local cycling groups and shops are a natural fit for helping promote the day but all groups should be encouraged to participate. Care Free Day works best as a participatory event. We could build a good network of contacts and share information and the workload.
We could consider a list of potential car free zones in our community. We should discuss the merits and downsides of each with all affected groups including local community officials, community groups and any groups who might be affected by the event.
Plan positive use of the car free space. The options are limitless and can include a children's area, arts and craft market, bicycle repair stations, musical acts and street theatre, restaurants and cafés extending out on to the side-walk.
The events are limited by your imagination and the only rule is to make it fun.
The success of your Car Free Day will be determined by the number of people that become involved.
Consult and involve as many groups as possible, especially with those most affected by the plans. Be prepared to modify initial plans in light of feedback and look out for potential partners among those sending in constructive feedback.
People of all ages and groups should be encouraged to participate. It is important to get the local schools and children involved in the process.