Sri Lanka a popular transit point for asylum seekers
The Sunday Observer in a recent issue highlighted that Sri Lanka has recorded a staggering 13,365 foreign visitors who have not emigrated in the past two years. Apart from those who come for pleasure or business, the figure had significantly increased by the recent groups that temporarily arrived in search of political refuge in a third world country.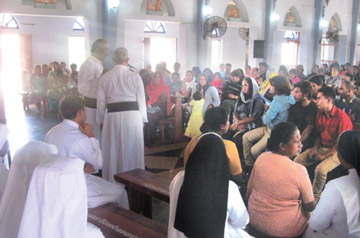 A Pakistani asylum seeking group attending a mass in Negombo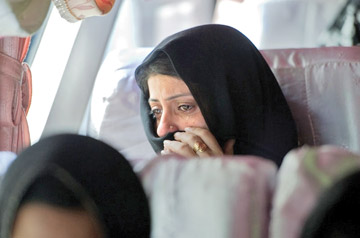 A repatriated asylum seeker boarded on a flight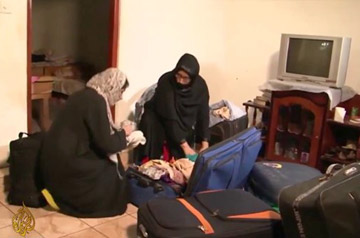 A couple prior to be removed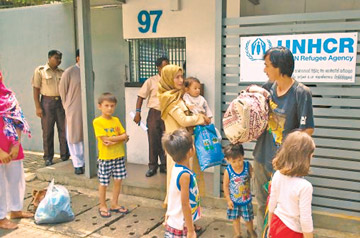 Group of asylum seekers outside UNHCR Office in Colombo
In other words, Sri Lanka has become a popular transit point for asylum seekers, who would wish to remain until they get internationally endorsed refugee status in a fully fledged European destination.
Being a facilitating country for those who wished to apply for asylum in another country is not a question as Sri Lanka abides by the customary international laws of non-refoulement (no forced returns) to countries where people face imminent risks.
Tourists
But the matters got worse, according to the local immigration officials, when an influx of asylum seekers in the guise of potential tourists from the regional neighbouring countries, pointed out a reasonable doubt whether the intentions of majority of such visitors to use Sri Lanka as a transit point were genuine.
Although the process to understand whether an asylum seeker was genuine or not is something that could only be determined by an international agency such as the United Nations High Commissioner for Refugees (UNHCR), Sri Lanka as a country and all its local law enforcement agencies possess a right to determine whether this is a ruse or not. Because genuinely seeking asylum and commercially driven transnational human smuggling syndicates is divided by a thin line only.
According to intelligence reports prepared by the Department of Immigration and Emigration 1,056 tourists have arrived in the country up to October 31 in search of asylum in a third world country. Out of this most number of people had come from Pakistan and Afghanistan.
Convention
An officer who wished to remain anonymous told the Sunday Observer that the first thing those who manage to enter the country through the gates of immigration at the airport in the guise of unsuspecting tourists would do is to register themselves as asylum seekers with the UNHCR office in Colombo.
Once they are registered with the agency a file is opened for each and every visitor who would be then exempted to live in the country (under the international convention on refugees and asylum seekers) until they are recognised as genuine asylum seekers and endorsed by the authorities as refugees. This will take some time and due to the growing number of visitors in search of temporary shelter, the process may not move as fast as it is expected.
Until a person's genuineness is determined that person will live in the country with no external support but with the mere funds he or she possessed at the time they arrived in the country. And it is not once or twice that such temporary asylum seekers were apprehended for unlawful activities such as credit cards scams for desperately attempting to find an earning to pay off their living expenses in Sri Lanka.
According to statistics, out of the 1,056 registered asylum seekers in the country at present 915 are from Pakistan, 119 from Afghanistan, six from Syria, five from Iran, four from Maldives, three from Tunisia and from Iraq, Palestine, Ukraine and Yemen.
Status
The UNHCR in Colombo had endorsed 424 persons with refugee status await their turn to be departed to their desired destination. Out of this 302 were from Pakistan, 87 from Myanmar, 15 from Palestine, 13 from Afghanistan, four from Iran, two from Maldives and one from Somalia.
However due to the growing number of asylum seekers and the fresh move by the Ministry of External Affairs to address potential human smuggling attempts the Department of Immigration received orders to send all the asylum seekers back to their respective countries despite their real condition.
When this was progressing the department received orders from a top intelligence body to exempt those who had been endorsed by the UNHCR as refugees. Since August the department had removed or sent back 343 Pakistani and 68 Afghan registered asylum seekers to date. However, due to an unexplained reason the dispatching process has now been stalled for a while.
The immigration officials who were duty-bound to follow the verbal orders received from their immediate superiors have been baffled by the latest series of events that virtually hindered them from performing their duties.
The attempts to send back groups of rounded up asylum seekers had been avoided by last minute orders that did not look nice either on the department officials as well as on a foreign policy of the country. On several occasions the groups that were accompanied even up to the boarding gates of the airport to be escorted to the aircraft bound for their country of return were blocked by last minute orders to release the groups.
Challenges
The immigration officials who went through numerous challenges in rounding up such individuals could not do much but to place a rubber stamp in the foreign passports cancelling the removal and departure from the country. The groups were then freed to go wherever they wished to.
Interestingly the group being apprehended by the immigration officials would immediately get a refugee status from the UNHCR within moments after the arrests. Groups that are being taken into custody and being brought to the department detention centre in Mirihana receive refugee status within two hours.
It was doubtful whether the so-called international agencies for refugees would really look into the genuineness of these registered asylum seekers and study their cases one by one to grant them refugee status in such a rapid manner. (Efforts made by the Sunday Observer for an insight into this matter was futile as no spokesperson on behalf of the UNHCR Colombo was available for comment).
It was then only found that certain underlying groups or individuals back these foreign asylum seekers in Sri Lanka who may seem to have a close understanding with the UNHCR office in Colombo.
Groups that would act as facilitators to find shelter, food, medical and other basic needs of the asylum seekers arrive in the country on a daily basis as tourists. And no service comes free from these good Samaritans for these foreigners during their temporary stay in the country.
Intelligence reports have found several facilitating groups in Negombo and Panadura areas who would especially back Ahmadiyya and Shia Muslims from Pakistan and Afghanistan as well as Christians from Pakistan.
It is not that the local immigration authorities are too heartless to admit the genuine plight of a few honest people who had faced persecution in their respective countries.
But an emerging trend of trafficking humans to developed western lands such as Canada, Switzerland and Norway under the label of innocent asylum seekers, through the facilitating countries like Sri Lanka is a matter that has to be taken into serious consideration in no time, the authorities reiterated.