Man alone can minimise natural disasters
Recently, our country was struck by a series of bitter natural disasters such as earthslips and flooding and several regions were declared disaster areas. The massive earth-slip in Koslanda was the perfect recipe for disaster and many lost all and were destitute in its trail.
With the overflow of most tanks in the north central province and the rivers overflowing their banks, there is a looming threat of flooding and the heavy rain. It is obvious that nature keeps on responding to man's unscrupulousness and natural disasters will hit him as long as he continues his operations on the earth.
Large scale sand mining using machines in rivers, forest firing, cutting trees and digging earth particularly on hilly regions appear to invite catastrophic floods and landslides.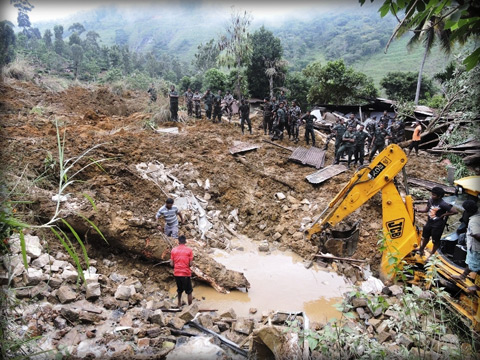 Usually Sri Lanka is affected by droughts, floods, landslides and rarely but abruptly the tsunami. Yet the most common are the flooding and earthslips which general far reaching consequences on those who are forced to confront them when they least expect to do so.
Locations
By now, National Construction Research Organisation has identified and mapped the high danger locations throughout the country.
The research personnel have identified around 250 locations with higher potential for earthslips but people living in such regions are far less prepared to vacate them. For some inexplicable reason, people in the disaster areas make every possible effort to stay in their houses and villages however much hazardous the locations appear to them.
Even though landslides appear to be a common natural phenomenon, their impact is really enormous.
Landslides occur in the central hills of the country. Badulla, Koslanda, Nuwara Eliya, Matale, Kegalle and Hatton are the common areas with high potential for earthslips. Earthslips largely occur in the central part of the country which contain "old landslides" (landslides that had occurred fairly a long time ago).
Building of roads and cutting sites for building of houses may open a certain place which had been an earthslip many years ago or even millions of years back.
It is pathetic to note that the people fail to pay due attention to natural disasters and to avert any catastrophe. They regard much less about the warning by Meteorological Department and geological warnings. Here people should be keenly aware of the history of the particular site or village.
That is to say, they should take particular care to examine whether there are any "Old land slides" which can operate again.
The tsunami which struck Sri Lanka in 2004, awakened us to the grim realities underlying the birth of natural disasters.
By now almost all precautionary measures against tsunamis have been taken by the authorities. Likewise, there should be a wide awareness about the causes and effects of earthslips among the public.
The massive loss of lives and property silently teaches us about how far we should focus on disaster management.
Apart from that, some knowledge about the simple theories of geology should reach the public in the form of simple, interesting discussions. Experienced geologists should be consulted in building houses and roads particularly in declared to be disaster prone areas. Unscrupulous changing of the landscape in hilly areas may open up possibilities of a chain of earthslips.
Catastrophes
A greater responsibility lies on us the people of Sri Lanka because nature responds to our own actions and decisions with heart-rending catastrophes.
The basic operation to earthslips is to control water. Once an area has been identified as having potential for a landslide, the water flow of the particular area should be regulated using effective methods.
The water drainage can be successfully controlled by building stone walls and making a stable drain system. These steps minimise destructive concentration of water, mud or boulders within a mass of land soaked by downpours. However, the is a questionable increase in earthslips now and any rain anywhere can account for a landslide of certain intensity. The primary cause for this dramatic increase in the occurrence of earthslips and floods is the mounting population.
Man who disrupts the balance of nature finally tastes the bitter consequences of his own deeds. Every operation, decision or change on the earth should be based on the geologist opinion.The Disaster Management Ministry should continue its awareness programs on natural disaster and display visual through the media.