Creating a focal point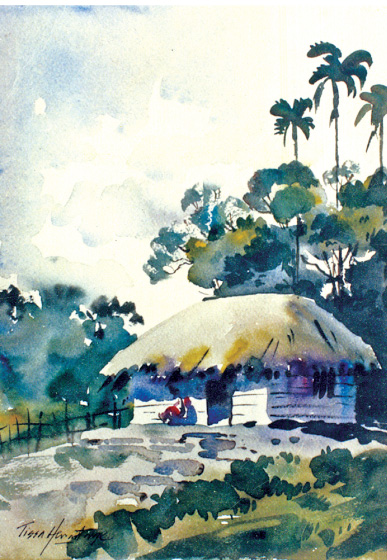 James McNeil Whistler (1834-1903) was right when he said, "Seldom does nature succeed in producing a picture." What he meant was that a scene which is breathtaking to the naked eye may appear less exciting when translated into paint on a small square of paper. Often, it isn't enough to simply copy the subject in front of you, sometimes you may have to add, subtract or regroup some of the elements in the scene to create a more balanced image. There are some landscapes painted by artists which do not show the main focal point.
Just as a play or film has one main character and a supporting cast, a picture should have one focal point - that is one spot that draws the eye and which carries the main theme of the painting - supported by shapes and colours of secondary interest. This is what gives balance and unity to a painting.
Note how I have made the tones and the colours in this scene to give a stronger image to the picture. The hut in front is the focal point. The lightest and the darkest tones in the painting are juxtaposed, and the viewer's eye is always attracted by such a strong contrast.
Note also the light tone of the road leads the eye to the focal point. Harmonious colours and tones give clarity and strength to the image. I have used green throughout the picture. Light and dark green keep the eye moving back in the picture towards the focal point (the hut). Observe the white light reflecting on the hut. The joy of watercolour painting is that the white of the paper can play an expressive part in idea of leaving areas of paper untouched.
When planning the composition of a painting always ask yourself "What do I want to emphasize and how should I display it? There are many ways to draw attention to the focal point, but they all have one thing in common. They involve the use of contrast to generate excitement in that area choosing the focal point of your painting and planning ways to accentuate it are the keys to good design. Undoubtedly the most dynamic way to create a focal point is by contrasting the lightest and darkest tones. This take planning in watercolour because you have to paint 'Negatively,' working around the white shapes.
Also the eye is always drawn to human figures in a landscape and their inclusion can turn an ordinary subject to a striking picture. Here the man seated on the left tiny as you see from the anchoring point of the whole composition. Observe the huge trees, as the backdrop with dark shades of green that attracts the eye and forms the focal point of the painting. The brushes are flat with sharp edges when they are wet. They can be used with the utmost economy of stroke to indicate foliage.