Focus on the place of women in society
Saumyavanthi
Author: Yamuna Malini Perera
Publisher: Fast Publishing (Pvt) Ltd.
Yamuna Malini Perera's latest Sinhala novel, Saumyawanthi has been published again. It unfolds the story of an innocent, young girl fleeing away from the clutches of her licentious step-father and to be free from her immoral and despicable mother and sister.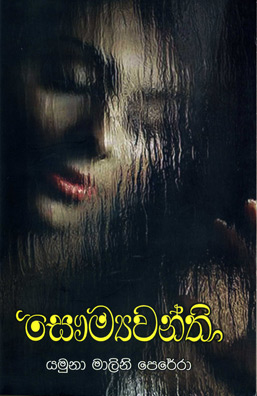 While her father, Wilson, is the only person in the family who shows real, fatherly affection for her, he is a bed-ridden invalid. He is too feeble to come to the aid of this poor girl, Somalatha. Her mother Mary Nona is dipped in vice. She sells pot-arrack and keeps a run-away, good-for-nothing fellow as her paramour who is later taken into custody by the police on a charge of murder. Mary Nona's younger daughter, Wimala leads a lustful life.
The family's only benefactor is Akmon. He is simply helping Wilson out of sympathy in the typical way of supporting a man in distress. Although he looks after Wilson, the vicious Mary Nona prevents him from even doing so. Somalatha's step-father is ever bent on finding a chance to rape her. So, it is nothing but a sine qua non for her to escape from such a precarious situation at home and go to Colombo.
Romantic affair
There, she finds employment in an office and takes up lodging at her father's sister's house at Kotte. Here, a romantic affair develops between her and her cousin, Suminda. It ends up in her being seduced and later deserted by him. Suminda is an opportunist and he gets married to a wealthy girl, a manager of a company and they take up residence in Nuwara Eliya.
After the demise of her aunt, Somalatha is driven out of her aunt's house. Later Suminda occupies that house with his wife and child.
On seeing Suminda with his wife and child going out in a car, Somalatha is awakened to face the bitter truth. Finally her cousin, Jayadasa from her own village, the son of Akmon, forgets her past and marries her.
Resemblance
There is a strong resemblance of this story to that of Wilkie Collins' novel, Woman in White. In her novel, Yamuna Malini Perera poses to us the issue of the place of woman in society. Woman is still treated in many quarters as a play-thing at the hands of the domineering males. This novel is a realistic one in that it weaves around the real attitudes of carnal love sans spirituality of most males in society.
The reformist urge of the novelist is conspicuous in the novel. Through my experience of having read and reviewed a few novels by Yamuna, I reckon that she engenders extreme intensity of feelings in girls overwhelmed with various vicissitudes of life. Mostly her heroines are made to undergo indescribable agony and dismay caused by deceitful lovers and subsequent harassment by their parents.
I, however, feel that this novel is devoid of that extremity and Yamuna's maturity as a novelist stands out since she generates moderate intensity in this novel. And she presents it with restraint.
Social values
The author tries to bring forth another aspect in the novel. That is the difference in social values between urban society and rural society. Her main character, Somalatha falls into the pitfalls of a towns-man from Kotte who vavishes her by showing her a false love.
Her human nature is not to blame. Her tenacious love for Suminda becomes a kind of frenzy and a mirage. Now she is desperate. At this critical moment, comes to her rescue, her rural cousin, Jayadasa who marries her displaying his noble, all-pervading love.
I do not, however, agree with her as regards the monstrosity of urban people altogether because it is Greta, an urban, polished woman who is loyal to her right from the beginning to the end of the story. Sexual gratification alone is sought by men not only in the urban society but also in the countryside. Fairness in this matter depends on how people are brought up.
'Racial unconscious'
According to the theory of 'the racial unconscious' by Carl Jung, the psychologist, emotions of love, hatred and sex are common to humans down the ages. In the same way, there appears no difference in sexual attitudes of men and women whether they are from the town or village.
Sexual continence and the cultured of young people matter a great deal in this matter. So, knowingly or unknowingly, the novelist exposes this fact by creating the characters in her novel. She shows adeptness in character-building.
With the main character with whom she seems to identify herself, she is quite dexterous in bringing out a girl's dedication in love. Her meticulous description of how Somalatha, who is ever hated by her aunt looks after he by tending on her, feeding her, washing her body and her dirty linen, and, at the same time, cooking food for her so-called fiance and his brother, Nilantha, is commendable.
I see this sort of punctilious descriptions also in the novels of Piyadasa Sirisena and in Nihal de Silva's 'The Road from Elephant Pass. Saumyawanthi is enlightening to young readers for moral development.