"Reading art should start at a very young age"
Sanjeewa Kumara is a leading artist who has had many exhibitions both here and abroad. He is presently showing his very recent work at Paradise Road Galleries, until the 26th of June.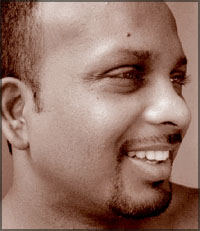 He has travelled widely whenever opportunities are found and it has widened his knowledge not only of art and culture but also of how other countries treat these subjects with uttermost care and importance.
To an expression I made of how I once witnessed a set of school children pooling bits of cash together to pay towards a drawing by their school art teacher who was having her exhibition at the Chitrakala Parischath in Bangalore, India; Sanjeewa Kumara said that is because art in India is read at a very tender age.
In fact they nurture and practice some kind of art from their childhood and they tend to understand the subtleties of the subject very clearly, be it painting, dance, singing or any other connected to the performing or fine arts.
According to Sanjeewa at one time there were TV crews covering inaugurations of exhibitions and it used to be telecast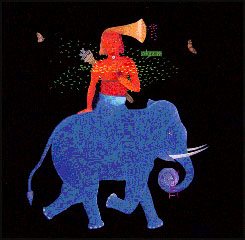 instantly over the evenings news bulletin but now they are not interested. Art is treated almost like a children's subject and whatever coverage it gets or programmes produced on the subject is telecast early evenings , during the times scheduled for children's programmes.
Sanjeewa Kumara's fascination with art had begun at a very early stage in life. His fathers involvement in it as a teacher has had much to do with it and his own fascination by the subject had driven him to achieving his goal of becoming a much noticed artist of his country one day.
His travels to the Netherlands on a couple of occasions to further his knowledge and acquire more finesse to the subject has had a good effect on Sanjeewa's style of thinking on the matter.
His marriage to an artist too may have enhanced his life furthermore, his fascination by surrealism is what makes Sanjeewa's work interesting to view, mostly because their is a tinge of unrealistic going on in his work. It is as if we are sailing through a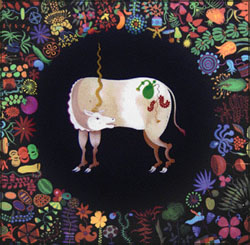 crazy wonderland where we are offered temporary solace to all our worries and problems.
The exuberance within his work can light up any dreary life to the point of making one stare at them repeatedly until one thinks that one can find some meaning to the happiness that his pictures have showered upon ones life. But there is rarely an answer to that.
Each curious detail strewn all over his canvas' in each piece of work can drag you deeper into mystery if one tries to sort them out and find any answers for one self.
Sanjeewa sums up his work with some sort of in-definition by saying that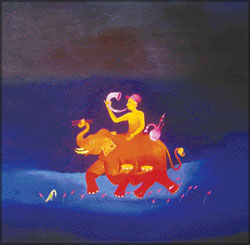 human beings are mostly unprotected and vulnerable, awaiting some disaster to happen. Man made or natural it is man that becomes the ultimate victim of those circumstances.
So there is nothing impossible in this world and those impossibilities are what the artist has dabbled around as subject matter in these recent works of his.