Catalysts in reshaping global politics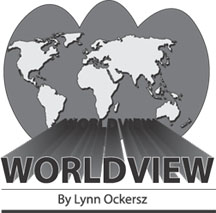 The meeting at ambassadorial level between the US and Iran on the Iraqi issue in Baghdad, no less than the historic handshake between visiting British Prime Minister Tony Blair and Libyan leader Moammar Gadhafi in Sirte, Libya, could be considered two recent breakthrough events which could re-shape international politics in a positive direction.
Beginning with the US - Iran meet between US Ambassador to Iraq Ryan Crocker and his Iranian counterpart, Hassan Kazemi Qumi, it is crucially significant that the parties have called for a "secure, stable, democratic, federal Iraq, in control of its own security and at peace with its neighbours".
This could be considered a solid policy plank for the two sides to build on because it is apparent that both parties are exceedingly sensitive to any "external interference" in Iraqi affairs. The US side has reportedly raised concern over what it sees as Iranian backing for "Shia gunmen" in Iraq and called for unity of purpose by Iran in Iraq, now that Iran has called for a Iraq which is both democratic and stable and fully in control of its security. While reportedly expressing his satisfaction over Iran's support for an independent Iraq, Crocker had called for a unified Iranian policy where there would not be any military or moral backing for armed, Shia groups which are also instrumental in fuelling a civil war situation in Iraq.
This issue would prove intractable in any future negotiations. What is seen by the West as external interference in Iraq would cease only to the degree to which the US - led military presence in Iraq is scaled down. Therefore, in the absence of concrete, troop withdrawal plans by the US, what is considered external involvement in Iraq could not be expected to diminish because the US military presence in Iraq triggers threat perceptions in Iraq's neighbours, besides helping in fuelling the bloodletting in Iraq.
Nevertheless, these initial talks between the US and Iran need to be welcomed on account of the key positions they hold as proponents of conflicting ideologies which are instrumental in the formation of a principal polarity in global politics. That is, the current stand off between what is loosely termed liberal democracy and Islam - based politics. Any degree of understanding between these sides could result in a reduction of global political and military tensions.
Ambassador Qumi's suggestion at the talks that the sides consider a 'Trilateral security mechanism', featuring the US, Iran and Iraq, to bring stability to Iraq, could prove useful because, the mechanism would not only institutionalize cooperation between the sides but tie them to agreements and commitments on helping Iraq.
Meanwhile, British Premier Tony Blair's cordial talks with Libyan leader Moammar Gadhafi could be considered a stitch in time in further de-escalating global political tensions. Libya has apparently learnt the hard way that a rapprochement with the West is probably best from the point of view of gaining from economic globalization.
To gain steadily from the latter process Libya needs to diminish its relative international isolation and it is doing just that by opening-up to the West.
To facilitate this rapprochement, Libya has shelved its nuclear ambitions and this had led to closer economic interaction between Libya and Britain, for instance, with British Petroleum already making oil exploration moves in Libya. Many more Western firms are reportedly joining the 'oil rush'.
The 'oil rush' is perhaps an initial indication that Libya is seeking a share of affluence from economic liberalization, both internally and externally.
Libya has been a frontline state in politicized Islam's confrontation with the West and the fact that it is in a bid to ease such tensions presages reduced tensions in global politics.