Tantalising sweetmeats and delicacies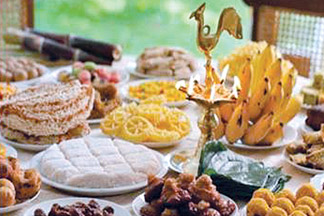 A spread of sweetmeats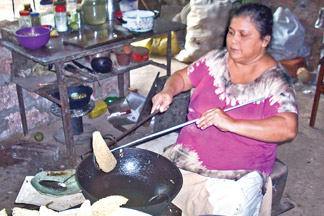 Making asmi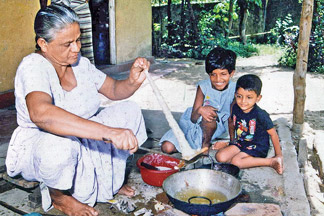 The little ones watch eagerly while a sweetmeat takes shape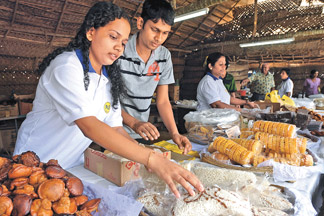 Selling sweetmeats
The Sinhala and Hindu New Year which falls during the month of April every year is considered as the only national festival, celebrated by majority Sri Lankans at one auspicious times. According to the almanac, the New Year dawns with the sun moving from Meena (pisces) to Mesha (aries).
Although the New Year is celebrated mainly by Sinhalese and Hindus, people of other communities too celebrate it to a certain extent by taking part in New Year traditional games which can be commonly seen in villages during this period.
The Sri Lanka Tourism says that unlike during other festive seasons, there is a significant increase of foreign travellers to Sri Lanka from Western countries during New Year periods. Many of them visiting the island with the intention of viewing New Year celebrations in villages. The foreign travellers also take part in traditional games .
The Sunday Observer last week visited several villages in the down South and in the Western Province to see how the village folk, especially women, get ready to celebrate the forthcoming season that begins from tomorrow (April 7).
Although the Sinhala and Hindu New Year is four days ahead, many village women have already started making sweetmeats such as Kavum (oil cakes), Kokis , asmi, kaludodol, pani valalu (honey rings) and athirasa.
Among these sweetmeat items, kavum and kokis are the two main varities of sweetmeat people like. The village women say although asmi is a tasty item, making them is very difficult and a time consuming job.
The village women say that they make two varieties of kiribath (milk rice) on the New Year day. They are Mun kiribath and Imbul kiribath. The village women make varieties of kavum. Some of them are Konda kavum, Seeni kavum, undu kavum, mun kavum.
Most women say that they start preparing sweetmeat at least ten days prior to the new year. They usually make them not for their consumption but for business purposes. It was common to see some women making sweetmeats under cadjan sheds at Hikkaduwa area. Many people, including foreigners come there to buy fresh sweetmeat.
A resident of Walapala in the Kalutara District and a large scale sweetmeat manufacturer Noris Perera said he has been in the sweetmeat manufacturing industry during the past 30 years and he makes them not only for the new year, but also during other festive seasons such as January 1, Christmas, Ramazan, Thaipongal.
He said in addition he receives orders for birthdays, official functions, house warming ceremonies, foundation stone laying ceremonies and school functions.
"There is a great demand for sweetmeat from star class hotels in Colombo, super markets and also from guest houses during new year and other festive seasons,"
He said his wife and daughter help him to prepare sweetmeats and when there are big orders during other festive seasons he gets the support of a few others to make large quantities of sweetmeats.
He also said a Sri Lankan citizen who resides in England had got down some sweetmeats made by him from a friend. As he was delighted with the taste of the sweetmeat he contacted us over the phone, he later sent money for us to construct our house.
A resident of Kalutara, 64-year old Kamalawathi Gunasinghe said she has been in the sweetmeat manufacturing business for the past 30 years and she needs financial assistance to expand the industry,".
She said she sells her products at her own place and also visits homes to prepare sweetmeats.
"Although, I want to expand the business, I am not in a position to buy equipment. Therefore I appeal authorities to look into this matter in a positive way,".
She requested the village Divisional Secretariat to set up a special centre for the benefit of self-employment people.
A 56-year old L.R. Sumanalatha of Kosgama said she earns a large amount of money by making sweetmeats during festive seasons and other days too.
She said she even receives orders from functions in Kalutara. She also proposes authorities to grant them with bank loans to expand their business activities.
A large scale sweetmeat manufacturer and a resident of Halmulla Village in Payagala, Sunil Shantha said he has been in the business for the past 25 years.
"I use high quality jaggery to make sweetmeats and the products are a little expensive. I earn a monthly income of nearly Rs. 57, 000. During the New Year season I earn about Rs. 90,000 a month,"
He said he also supplies sweetmeats to tourist hotels in Mt. Lavinia and Kollupitiya. He proposes the Sri Lanka Tourism to help sweeetmeat manufacturers to sell their products at leading hotels in Colombo. He said a crew of a foreign ship one day visited his place and bought a large quantity of sweetmeats worth over Rs. 50,000.
A sweetmeat maker D.R. Padma of Ambalangoda said she makes sweetmeats only during the New Year season and earns about Rs. 75,000.
She said foreign nationals relish our sweetmeats. She suggests the Government to establish a sales centre at the Katunayaka Airport to enable poor sweetmeat manufacturers to sell their products. A sweetmeat manufacturer Kusuma Priyanthi said she has been in the business for the past 30 years. "My products are a little expensive, as I use high quality jiggery and treacle to make kavum and Athirasa.
I start making sweetmeats on April 11 and I make only for people in our area," She said in addition she makes them for special functions, such as birthday parties, alms-givings etc.
She also proposes that the Ministry of Small Industries to conduct a fair during festive seasons for the benefit of sweetmeat sellers to sell their products under one roof.