Blind war hero meets his sweetheart:
Love has no barriers
It was March 25 at 9.21 am that she lovingly said 'I do' on the beautifully decorated poruwe amidst over 500 guests. The beautiful young bride who was courageous enough to share the rest of her life with a groom, who will never able to see her beauty, put on the gold ring to show him that 'he is mine'.
"Yes I got married", exclaimed Lance Corporal Charith Kularuwan Kulathilleke recalling his wedding a few weeks ago. The 23-year-old who never dreamed of getting married as he is totally blind, said he 'saw' his wedding like seeing a film. It can be traced back to the history of Abimansala, which was the home for disabled war heroes in Anuradhapura, as this was Abimansala's first wedding.
Taking his lovely wife to his half-built house in the remote hamlet of Wellara in Mihinthale, Charith was busy learning to operate his new gift - a laptop when the Sunday Observer spoke to him about his dream-come-true wedding.
The 23-year-old soldier of the 5 Vijayabahu Infantry Regiment (VIR) who battled to liberate the country from terrorists, had to fight to get the consent of the parents of 18-year-old Suvini Sewwandi, who was adamant that she wanted to marry him.
From the first day - September 11, last year- of their meeting Sewwandi has been able to shed light into his world which was filled with darkness. Despite the strong opposition from her parents she decided to visit Ranaviru Sevana at Ragama, where Charith initially sought medical treatment.
"While I was in a bus to go for my classes, I saw a blind soldier seated in the front seat. He was going for treatment to the Colombo Eye Hospital.
The way he was staring at the sky from the window tugged at my heart strings and I talked to him. I got his contact number. When we were talking. I felt that he was a person with principles", Sewwandi who took a bold decision to be the soul mate to Charith said.
When her parents realised that they could not stop her from marrying a war hero, they gave their blessings to the marriage.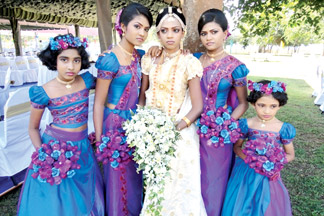 At the wedding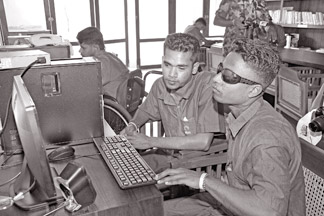 Learning to handle the JOSE computer which was gifted to the lucky groom
The newly wed husband recalled the incident where he lost his sight. It was on a night mission that four out of an eight-man team started crawling towards the target which was five kilometres away from the Forward Defence Line of Kilali, Jaffna.
The main objective of the mission was to destroy LTTE bunkers and disrupt the stability of the LTTE's defence lines along Kilali.
Charith who led the four-man team crawled for over one and a half-hours clearing the path to the target. They were a few yards away from each other and there was a thundering explosion of a booby-trap which blew off the young soldier, who always took the lead in any night mission. "With the explosion, my eyes turned red. I can only remember a big red ball coming into my eyes". He was, then attached to the 53 Division, when he lost his sight and his right hand. If not for the body armour jacket and helmet, Charith would never be alive.
"They attacked us but the others were able to neutralize them and also took over the bunker. We did not fear death and always wanted to be in the forefront as the prime objective was to liberate the country from LTTE terrorism", he said. Charith who regained conciousness at the Sri Jayawardenapura hospital realized that he would never be able to see the world again.
The fateful day was November 18, 2008, Charith not only lost his sight but also his maiden love. Drowned in deep distress he tried to commit suicide several times but finally decided to challenge his fate."I was afraid of the dark. When I see a blind person I used wonder how they would face life. But now I know how a blind struggles in life but what I can say is that I 'see' the world more than before", he said.This first wedding ceremony at 'Abimansala Wellness Centre' took on special look with colourful decorations to hold its first wedding. The centre, which was the brainchild of the Army Commander Lt. Gen. Jagath Jayasuriya, is the home to 53 permanently disabled war heroes, who are well looked-after by a team of qualified staff.
"I was happy that most of the high ranking Army officers attended my wedding. We held it according to tradition. I am happy I am able to fulfil my mother's biggest worry that I would be left alone in this world. I know that 'Sewwandi nangi' (he still calls her with the same name that he got to know her will look after me well. She is my strength now", Charith said. He thanked the Army Commander, the chairman of the, Seva Vanitha Army Branch Manjulika Jayasuriya, Director of Rehabilitation Maj. Gen Ranjith Samaratunge, all high ranking Army officers and staff of Abimansala who helped him for his wedding.
Minister of Agrarian Services and Wildlife S.M Chandrasena's wife was kind enough to sponsor the food and bridal dressing free. There was barely a dry eye as the couple exchanged their rings and when the radiant bride in an off-white 'osari' holding the hand of the war hero reached the guests to thank them. The Chairman of the Demo company Ranjan Paranavithana promised to financially assist the couple to complete the half-built house, which was constructed from money saved by Charith since May 2005 as a soldier. Charith who was 'lovingly led' by his beautiful bride posed for pictures with a smile showing his untold happiness.
Charith learnt to operate a computer at Ranaviru Sevana, he is now a fully-trained computer operator training others who are visually impaired at Abimansala. Using the special software package -JOSE- designed for the visually impaired. He also can use the mobile phone which has a similar software for the visually impaired.
"I am happy with my life now but at the same time I am very sad as I cannot see her face. Everyone says she is beautiful and now I see her from an image that I have created in my mind.
I sing when I feel down and I also meditate to get relief", Charith the war hero, who called his bride a heroines as she won all the odds and was ready to face a challenging life with a visually impaired person." Why I decided to marry him was because I felt Charith Aiya was a war hero and was a human being. It was not about 'seeing' the world. He is really a courageous person and we both wanted to stand against all odds", Sewwandi said adding that the couple plans to start a communication centre soon.