Advanced radiation therapy technology at Global Hospitals
"Cancer patients in Sri Lanka now have access to advanced cancer care, treatment and facility at the Global Cancer Institute at Global Hospitals, Bangalore. Global Hospitals is , an institute at the forefront of cancer treatment in India known as TrueBeam Stx", Dr Mathangi J, Consultant Radiation Oncologists of Global Hospitals Bangalore, told a public gathering attended by those suffering from this dreaded disease.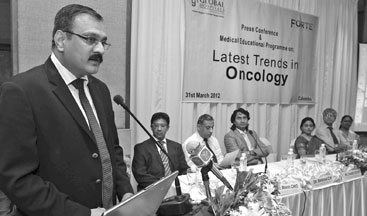 Global Hospitals Group and their local partners, Forte International conducted a public program on Cancer. A team of five Oncologists from Global Hospitals in Bangalore addressed Sri Lankans.
This high profile team of consultants arrived here with the assistance of the Sri Lanka College of Oncologists and conducted a medical seminar for the medical fraternity.
According to Consultant Surgical Oncologist, Global Hospitals, Dr. R. P. Deo there were an estimated 12.7 million cancer cases around the world in 2008 with around 7.6 million deaths due to cancer.
"This number is expected to increase to 21 million by 2030. The most commonly diagnosed cancers worldwide were lung, breast and colorectal cancers. The most common causes associated with cancer deaths are lung, stomach and liver cancers. cancer rates are set to increase at an alarming rate globally.