Orient Capital ventures into money brokering business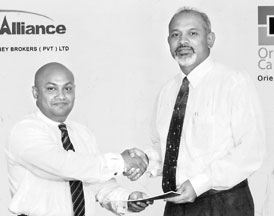 Orient Capital Limited recently entered into a joint venture with First Alliance Money Brokers (Pvt) Limited – one of the key providers of interbank money and foreign exchange broking services to the finance industry in Sri Lanka. By acquiring 20 percent equity stake in First Alliance, Orient Capital will create a new window of access to the banks and financial institutes – especially large scale; and in turn provide further strength and stability to the operations of First Alliance as well.
Orient Capital Limited – formerly the venture capital company known as People's Venture Investment Company Limited owned by People's Bank, was transformed into an investment bank backed by the insurance giant Janashakthi Insurance Company PLC – a leading corporate entity in Sri Lanka. Orient Capital is currently in the process of integrating various types of finance related companies to form the Orient Capital Group. Since the companies in the finance industry are interdependent,
Orient Capital will be in an advantageous position to benefit from the group synergies arising from its member companies as Orient Capital intends to meet their clients' financial and investment demands under one roof with reliability and this joint venture with First Alliance is a firm step towards achieving that objective.