IPM conducts business leaders forum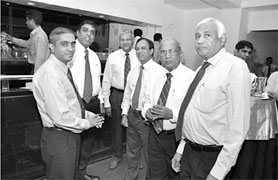 The Institute of Personnel Management (IPM) of Sri Lanka recently conducted a business leaders forum based on the theme 'Be a part of evolution'. The chief guest and guest speaker was the Governor of the Central Bank of Sri Lanka, Ajith Nivard Cabraal.
The Governor said, "It's a difficult era that we're living in. Changes that are taking place in any part of the world will affect us and therefore we have to ensure that business leaders also have the resilience, courage and the ability to move forward."
He reiterated the importance of not being affected by other events taking place in the country, even globally. "If you look at the results, there are some companies which are making extraordinary profits while others are struggling. So there is really no explanation. My message would be, stay on course, make sure that you have the right plans in place and move forward, put your team together and energise them. Ensure that they are on track with you. If you do that, you'll find that you will be successful in the long term."