Dulux 3 in 1 promoted everywhere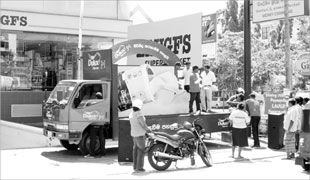 Dulux began the promotion of Dulux 3 in 1 paint for the Sinhala and Tamil New Year. The Dulux 3 in 1 truck will be easily identifiable as it has a large cut out of a Dulux 3 in 1 paint tin on its side. The promo truck will initially visit Maharagama and Piliyandala and will travel to approximately 54 main towns, including Anuradhapura, Peradeniya, Matale,Malabe, Dambulla, Hambanthota and Kuliyapitiya in 27 days.
Through a selected radio station the towns visited and to be visited will be informed to the public along with updates from the location. Representatives from Dulux will be on hand to educate the general public of that area about the main benefits of the product.
Dulux will also conduct a radio promotion throughout the 27 days. Each day a 'password' will be announced on a selected radio station and the first five individuals who give the correct answer at the Dulux 3 in 1 truck location will receive a gift from Dulux. Individuals who visit the Dulux 3 in 1 truck will also have the opportunity of winning discount vouchers from Dulux.