'Progressive forces could defeat international conspiracies'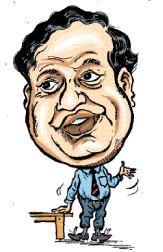 All progressive forces should unite to defeat the national and international conspiracies against Sri Lanka and achieve sustainable development, said Petroleum Industries Minister and UPFA General Secretary Susil Premajayantha.
The UPFA completes its second year in office today. The 16 constituent parties of the UPFA Government firmly stood by President Mahinda Rajapaksa against all kinds of anti-government moves during the past two years. We should work to realise the Mahinda Chintana economic and social goals, the minister said.
The Government has accelerated the development drive with special emphasis on empowering low income groups in keeping with the Mahinda Chintana forward vision.
The people have reposed full confidence in the Government's development drive by relegating the opposition into oblivion."
The Government with a strong Parliament succeeded in taking the country forward in terms of development. A number of mega development projects was implemented by the government with the focus on making low income groups economically viable, the minster said.