Driver points scheme to be expedited
Due to the alarming increase in the number of fatal traffic accidents, the Government has decided to expeditiously implement a points scheme leading to the cancellation of the offender's driving licence if he/she repeatedly violates traffic laws.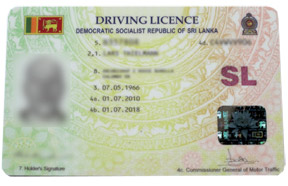 "This law, passed in Parliament recently, will be implemented soon," Police Spokesman, SP Ajith Rohana told the Sunday Observer.
He said the new driving licence issued by the Motor Traffic Commissioner has an embedded microchip to capture traffic-related data. The police could keep track of motorists' past record of traffic offences and after two suspensions the licence can be cancelled for good.
The police spokesman identified deteriorating road discipline as a major cause for the alarming increase in the number of fatal traffic accidents in recent times. "Laws alone cannot curb road deaths, self discipline is vital," he said.
The number of road accidents during the past five years has shot up by 6,000, from 33,757 in 2006 to 39,700 in 2011. Up to March this year, there have been 600 vehicle collisions, killing over 600 people and critically injuring nearly 1,300.
He said high speed and rash and reckless driving were the main reasons for road accidents in Sri Lanka. Unruly private buses, three wheelers, motorcyclists and cyclists as well as reckless pedestrians have added to the already serious issue.
Due to road accidents, 2,413 people died and over 6,800 critically injured in 2009; 2,721 died and 7,931 were critically wounded in 2010.
With rapid ongoing development work on road networks and the trend of new vehicle registrations which has seen an unprecedented increase during the past two years, with over 500,000 new vehicle registrations in 2011, this issue needs to be addressed urgently, he said suggesting that it would be a good idea to include the subject (of road safety) in the school curriculum.