Police raids to check crime during New Year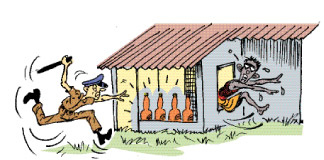 Police will carry out raids on illicit liquor booths and gambling dens to prevent violent crimes being committed by those under the influence of liquor on account of the forthcoming Sinhala and the Tamil New Year, Police Media Spokesman SP Ajith Rohana told the Sunday Observer.
A stockpile of cigarettes illegally imported and bottles of arrack sold without a permit were seized by the Walana Vice Squad following raids being carried out at Ratnapura, Maharagama and other areas last week, police said.
Police seized 4,200 illegally imported Gold Leaf cigarettes in 21 cartons in a raid conducted on a boutique at Warakathota in Ratnapura. A woman who was in possession of the contraband cigarettes was handed over to the Ratnapura police station with the haul of cigarettes.
In a separate raid carried out at a house at Vidyalaya Road in Maharagama police took for questioning a man for having 28 bottles of arrack without a permit. The suspect businessman was stockpiling arrack to be sold during the festive season, police said.
Twelve more suspects were also taken in for questioning at Ratnapura, Maharagama and Kadawata for selling arrack without a permit.
The raids were carried out by OIC, Inspector Duminda Balasuriya on the instructions of Director SP Palitha Fernando.