Death of Malawi President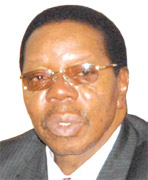 Bingu wa Mutharika, an obscure economic minister who became the President of Malawi in 2004 and later brought his country to the brink of failure, passed away on April 5 at a hospital in Blantyre, the country's commercial capital.
He was 78. Physicians who treated the President said that he died following a heart attack. The Malawian government has issued no official statement about Mutharika's death.
Reports from Malawian news media said that a succession struggle was imminent. Malwis small, landlocked nation of 16 million.
Washington Post