Earthquakes' awareness vital:
Sri Lanka too figures of late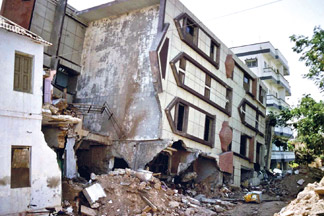 20,000 people killed in Bhuj earthquake in Gujarat – Jan 2001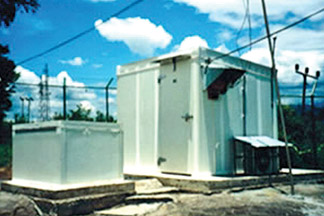 Pallekele Seismic Station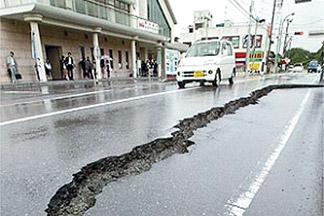 Earthquake cracks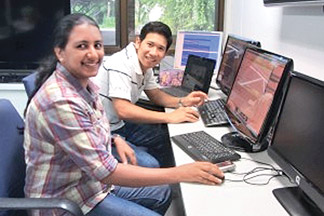 Nilmini Thaldena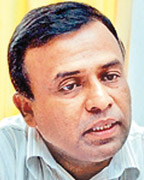 R.M.S.Bandara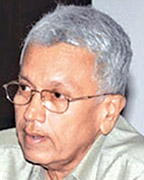 Prof. Kapila Dahanayake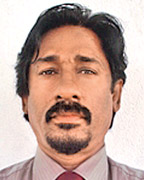 Sarath Lal Kumara
The Geological Survey and Mines Bureau says there is no proper study carried out to conclude for certain that Sri Lanka is becoming increasingly susceptible to devastating earthquakes.
A spate of recent tremors felt in Sri Lanka has roused suspicion if the country is getting increasingly vulnerable to earthquakes but Nilmini Thaldena of Geological Survey and Mines Bureau (GSMB) said the research in this sector had been very poor to give the geologists a clear idea as to where we were heading. Only findings of in depth studies will reveal whether there has been a change in pattern of earth tremors or not.
There has been increased awareness lately and we have acquired the technology to measure earthquakes since 2000. This is one reason every minor tremor that Sri Lanka feel is being recorded and reported.
It does not imply that there is a heightened threat. "But we have to investigate", she said.
On the other hand the number of earth tremors worldwide has indeed increased, in this backdrop we could surmise that the tremors felt within Sri Lankan region could also have risen. But this needs to be verified with proper data, she said.
During the construction of Kothmale reservoir in the 1980s, the project engineers had observed a 2.5 point earth tremor. This indicates that there has always been minor tremors in our region but the proper technology to measure them in Sri Lanka was absent until the recent past.
The first seismometer in Pallekelle was set up in 2000 by the California university as part of their global earthquake monitoring network, then in 2010 two more centres were set up in Hakmana (Galle) and Anuradhapura as part of a German tsunami early warning network. All three stations are with modern technology and help Sri Lankan geologists to make fairly accurate readings in the domestic front.
"From the data gathered so far, we believe Sri Lanka is affected by one minor earth tremor every 1-2 years."
However this year this pattern was broken, there were three tremors close on the heels of each other. The first was on April 11, 2012 at 2.08pm followed by an after shock at 4.13pm. It was felt by almost all parts of the country. US Geological Survey said this was due to an undersea earthquake near the Sumatra region.
The second was on May 20, 2012. This particular earthquake originated within the country unlike the former. The GSMB estimated the epicentre of this earth tremor that recorded 3.6 points in the Richter scale to be in the lower slopes of the central hills.
The third one was recorded on May 26 at 9.52am. It was felt in the east, west, south and northern parts of the country. This too has originated within the country.
Thaldena said if Sri Lanka could acquire at least four more stations, it will help them find the precise location of the epicentre if the tremor originated within the country and a more accurate reading on the strength of the tremor.
The GSMB is in the process of setting up four new stations covering the west and the north of the country. They are currently trying to find sponsors for the new stations that are estimated to cost Rs.120 million in total.
Although it has not been established if there is a probability Sri Lanka is getting more vulnerable, it is necessary to review the resistance of the existing high rise buildings in highly populated areas to prevent large-scale human casualties in the event of an earthquake, R.M.S.Bandara, Head Landslides of the National Building Research Organisation (NBRO), said. "Sri Lanka so far has no building code concerning earth tremors."
"We need to seriously think about the way how the future buildings, especially the multi story structures should be designed to resist powerful earth tremors."
He said the Disaster Management Centre has appointed a committee comprising officers representing the NBRO, CEB and University professors to research and report on the future prospects for Sri Lanka.
It is reported that the Twin Towers, Jaic Hilton and the Bank of Ceylon tower have been designed in line with seismic building codes but there is no clear information as to the other buildings within Colombo.
Designing a building code requires a proper study on earth tremors reaching Sri Lanka as well as the geological make up of the vulnerable areas. How the waves originating from different epicentres/ earthquake locations - Indonesia, Australia or South Africa, etc - reach the country is another important data when designing seismic building codes.
Bandara said the Urban Development Authority which currently gives clearance to building plans could oversee the adherence to the building code. However, how long this process will take to put in place a proper building code is unclear.
"We could study the building codes in Japan or India but our model has to be unique to geological and other aspects in Sri Lanka."
The earthquake resistant buildings have special foundations, and other structural modifications to withstand vibrations caused by an earth tremor. The modifications vary based on the extent of the land and number of stories of the proposed building, etc.
In Japan, a country always affected by devastating earthquakes, a mini model of the new structure is always tested on a special 'testing table' before a construction is given the green light. If the structure develops cracks during the test, it will be perfected with more modifications to the original plan.
The Disaster Management Centre Spokesperson Sarath Lal Kumara said, a workshop of all stakeholders last week at the National Science Foundation discussed that universities should be encouraged to carry out studies to ascertain if Sri Lanka had a serious threat in the future with earthquakes. The meeting chaired by Disaster Management Minister Mahinda Amaraweera was attended by senior officials from GSMB, NBRO, Met Department, all the stake-holders.
It has also been highlighted the urgent need to make people aware on how to react in an earthquake. Minister Amaraweera was quoted as saying "May be we are driven by unfounded fear but earthquakes are something that we cannot afford to ignore for the consequences could be devastating."
Former Head of Peradeniya University's Geology Department Prof. Kapila Dahanayake said there was no need for new plate formations near Sri Lanka to make the country vulnerable to earth tremors. Earthquakes can occur anywhere anytime. Therefore preparedness is very vital. The earthquakes mostly occur in the tectonic plate boundaries. But Sri Lanka is also affected by intra plate tremors which are not a very common occurrence, he said.
A few years ago in Bhuj, India (Gujarat) thousands of people died due to an intra plate earthquake. Since 1960s there have been more than 60 reported earth tremors in Sri Lanka. "It is true that new plate formation is observed near Sri Lanka. But this could take another 100 million years to complete. There was a devastating earthquake in 1615 in Sri Lanka, long before the new plate formation was reported. In geological years few hundred years is like yesterday. So we cannot say the 1615 earthquake is too far in the history to get repeated."
"An indepth study may sometimes show that this is not at all a new phenomenon, that there is no new or heightened threat for Sri Lanka but it is a risk that we cannot take when dealing with earthquakes," he added.
Prof. Dahanayake highlighted the urgency to create awareness among the masses, and school-children on how to react in an earthquake situation.