Sri Lanka has opportunities to expand economy -Singapore Foreign and Law Minister
Sri Lanka has vast opportunities to expand its economy compared to Singapore said Minister of Foreign Affairs and Law of Singapore K. Shanmugam. He was addressing the Sri Lanka Singapore Business Forum recently. He said that the Sri Lankan economy has grown and it is poised to achieve its full potential. The economic growth rate of 8.3 percent last year and a projected growth rate of around eight percent from 2013-2020 will help boost investments and develop the economy.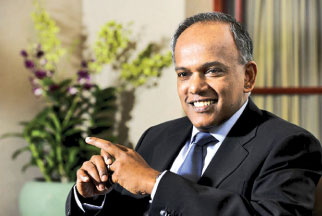 Singapore is a major business partner of Sri Lanka and trade between the two countries stood at $ 1.94b last year which is a six percent growth compared to the previous year. Of the total trade that year $ 1.53b were imports to Sri Lanka. Trade between the two countries stood at $ 1.1bn in 2009.
Singapore is the third largest economy in Asia after China and Japan and in 2010 it was the third fastest growing economy in the world behind Qatar and Paraguay with a real GDP growth rate of 14.471 percent.
Sri Lanka is the 37th trading partner of Singapore which has companies in property development, food and beverage processing,logistics, telecommunications, apparel and conventions and conferences in Sri Lanka.
Shanmugam said that the MoU between Sri Lanka and Singapore will help foster greater awareness and enhance mutual benefits.
He said there are many opportunities for mutual cooperation which should be explored through greater interaction. Sri Lanka-Singapore relations entered a new phase with the signing of the Memorandum of Understanding between the two countries to promote trade and investment.
Minister of Foreign Affairs and Law of Singapore is in Sri Lanka on an official visit ccompanied by a high powered business delegation comprising potential investors from the Singapore Business Federation the apex and the largest business chamber in Singapore.
Sri Lanka Singapore Business Council President, Shamil Mendis said that relations between Sri Lanka and Singapore reached a milestone with the MoU which will strengthen the bond between the two countries.
The forum comprised B2B meetings based on one-on-one interactions between the Sri Lankan and Singaporean representatives.
Mendis led a 14- member business delegation from Sri Lanka to Singapore in 2010.
Minister of Trade and Commerce, Rishad Bathiudeen said that the MoU will not only pave the way for more Singapore investments in Sri Lanka but also increase knowledge sharing and foreign exchange transfer to Sri Lanka.
"The MoU is not only a milestone in our relations but also a historic B2B meeting of two promising business hubs in Asia", he said.
This is the first MoU signed between the Singapore Business Federation and the Sri Lanka Singapore Business Council of the Ceylon Chamber of Commerce.
Around 130 Sri Lankan companies will meet 21 business delegates from Singapore.