Chandana Ranaweera:
Rebellious monochrome artist

Man has been making wall paintings since the beginning of time. Caves were filled with paintings of jathaka stories and traditional floral designs. These paintings represent a phase of the Sri Lankan tradition of mural paintings that is over 200 years old. Many Buddhist temples and shrines with brightly painted interiors and line drawings still exist throughout the island. Artist Chandana Ranaweera creates his works of art, with a decided perception and a vague trace of personal style that could be seen evolving into creative art. Chandana Ranaweera was born on August 8, 1969. As a boy he grew up in the typical surroundings of a Sri Lankan village in Kurunegala. His early education was at the Pahala Alawwa Ratnalankara village school and completed his secondary education at Kurunegala Maliyadeva Vidyalaya. From his childhood his pen drawings projected his vision. He used various techniques and styles.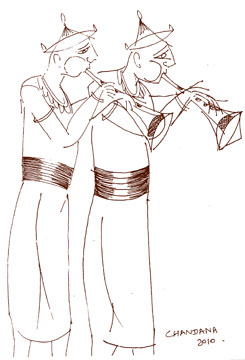 Chandana has not acquired any special academic training in the field of arts but he was trained under the reputed art teacher Sumana Dissanayake who turned him to be a master of the brush, pen and ink work. He has proved his mastery and ability to arouse the enthusiasm of the public with his pen. The titles of his latest works are emphatically religious. A sampling of the titles is enlightening 'Abode of Gods,' 'The monks' 'Vesak lanterns,' 'Lonely God,' 'The drummer,' 'The Buddha,' 'Kavadi dancers,' 'Sitar player' and 'Vandana.' The variety of media in which he works is oil, pen and ink drawings and the technique adopted in the exhibition held at the Lionel Wendt in 2000 is largely that of the college, Chandana has been able to make innovative and imaginative use of local traditional material.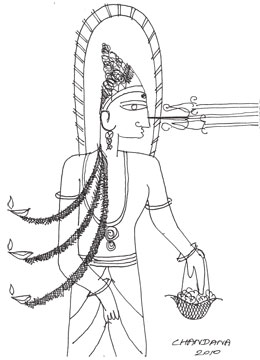 In some of his telling collages the implication of sacred tradition is portrayed through fragments of ola-leaf manuscripts attached to the painting. But he mostly excels in line drawings.
He has also participated in international group exhibitions in 1993, 6th biennial, Bangladesh, 1994, 8th Triennial, India, 1994, Norma International Book illustrations, Japan.
One man exhibitions (local) 1991 'Come and see at the Public Library auditorium, 'Calling Again' (1992) and 1994, 'Colour line poetry' at the National Art Gallery, Colombo 7.
His works are displayed as permanent collections at Alawwa Junior School, College Theme 'Observing Sil' Wilton Garden Temple, Singapore.
Chandana Ranaweera has received many awards in 1994 United Nations Environment Program, World Environment Day (painting selected printed on picture post cards.) In 1999 he received a certificate of merit from the United Nations Population Fund Poster Competition (UNEPA). Artist Ranaweera, is the most outstanding among Sri Lankan artists of our day who creates paintings with folk flavour.