Pulicat women weave a livelihood with palm leaves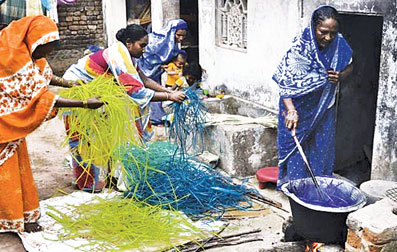 While many consider it fashionable to sport cloth bags or those made of jute, paper and other eco-friendly products, for some, it goes beyond making a fashion statement. Take S. Thameen Beevi, for instance. The 70-year-old carries her frayed palm leaf basket wherever she goes.
"It has become a little dirty. But I have had this basket for at least five years now and what's more, I made it myself," she says proudly. Ms. Beevi is one of the few women in Pulicat who still makes baskets from palm leaves. "I learnt the craft from my mother and she, in turn, was taught by my grandmother. Earlier, we made simple baskets. But now we make colourful ones that can be put to various uses. We make cellphone covers, purses, boxes, and many such things," she says, mixing different dyes to colour the palm leaves.
They get the leaves from villages like Elavuru, Gummidipoondi and Mangavaram. The dyes procured from George Town are mixed with boiling water. Interestingly, she does not use a scale to measure the quantities of the different powders or consult notes to get the right mix. "It is all in the mind," she smiles. Her daughter S. Fathima is not an expert at mixing the dyes. She is however extremely quick when it comes to making the baskets.
"I don't go out much but work from home. The palm leaves are delivered at our doorstep. We buy a bunch of about 100 leaves for Rs. 1,000 and split them among the women in the neighbourhood. A single person cannot afford a whole bunch," she says. The palm fronds are first dried and then the leaves are cut to size, dyed and dried, and then fashioned into different kinds of bags.
M. Ayesha, a neighbour, says the women here are happy making a livelihood out of weaving palm leaves. "We earn more than before by making such products.
Though it is a lot of work, we don't mind," she says. The women earn around Rs. 75 per basket and each of them makes up to five baskets a day.
- The Hindu