Mud-slinging and defamatory articles on websites:
Mangala eats humble pie as Sajith takes him head on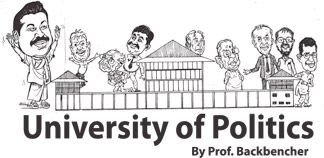 The United People's Freedom Alliance (UPFA) and the United National Party (UNP) will soon decide on their chief ministerial candidates for the upcoming elections to North Central, Sabaragamuwa and the Eastern Provincial Councils.
Both the parties are now in the process of selecting their prospective candidates. A large number of youth, social and political leaders have shown a keen interest in contesting under the UPFA which is carefully scrutinising such requests.
The UPFA will mainly focus on youth while allocating an equal share for seasoned provincial politicians. The SLFP, the main constituent in the ruling UPFA, has already decided not to entertain family members of its parliamentarians while focusing on youth and women, along with key provincial level social leaders.
While the main political parties are going ahead with initial groundwork for the Provincial Council polls, the Commissioner of Elections, Mahinda Deshapriya said last week that he would not hesitate to annul results if malpractices occur at polling centres during the elections. Deshapriya said he will take whatever measures necessary to maintain discipline.
Voters who do not possess a valid document as proof of their identity will not be allowed to vote. The Commissioner has given strict instructions to implement this rule. National ID, a valid passport, driving licence, public service pensioners' ID, elderly citizens' ID, an ID issued for the clergy or a temporary ID issued by the Elections Department or Registration of Persons Department for polls held in 2010 and 2011 is a must for voters to cast their vote at the polls.
The number of voters in all three provinces has increased by a total of 188,395 in comparison to PC polls held in 2008. In the Eastern Province there is an increase of 51,028 voters. It has risen from 982,721 (2008) to 1,033,749 this year. In the North Central Province, the voters have increased by 54,399 from 846,473 in 2008 to 900,872 this year. In Sabaragamuwa Province, the increase of voters is 82,968 from 1,318,826 in 2008 to 1,401,794 this year. The nominations for the elections will close on July 19 and the Commissioner will announce the date for polls thereafter. It is most likely to be held in mid September.
Mangala apologises from Sajith
Parliamentarian Mangala Samaraweera, better known for his own media creations and tarnishing image of his political opponents in a sinister manner, had to eat humble pie last week as UNP Deputy Leader Sajith Premadasa took him head on at the UNP Working Committee meeting held at Sirikotha.
Speaking at the very beginning of the WC meeting, Premadasa said that website Sri Lanka XNews, operated under the patronage of Samaraweera had been carrying defamatory articles. He said that UNP parliamentarian Ravi Karunanayake, giving an interview to the website, has criticised him and his family members in an unbecoming and disgraceful manner.
"For one and a half months, they have been slinging mud at me in a highly disgraceful manner. I asked them to remove that defamatory article in which MP Ravi Karunanayake is attempting to tarnish my character. All what he has said there are wholesale lies. What action are you going to take against this?," an angry Premadasa queried at the WC meeting.
Knowing that the going is not well and that he going to face an acid test, Samaraweera had immediately stood up to tender an unconditional apology. "I am extremely sorry. I have made a big blunder," said Samaraweera, repeatedly begging his pardon from the Deputy Leader of the UNP.
Premadasa then launched a fresh attack and questioned General Secretary of the UNP Tissa Attanayake that what action the party would take against Karunanayake for giving such a defamatory and malicious interview against him. Attanayake told the WC that the party has already sent a letter to Karunanayake seeking a clarification on that interview.Smelling that the developments are not favourable for his confidante and that Premadasa was in an aggressive mood, UNP Leader Ranil Wickremesinghe then decided to end the WC meeting, saying that he had to attend a bana on the same night.
Meanwhile, Kurunagala district UNP parliamentarian Dayasiri Jayasekera declared that the party must take a firm decision on news articles on websites targeting popular personalities and politicians. Making a statement at the UNP parliamentary group meeting recently, Jayasekera said they should not hesitate to take stern action against the culprits and even should go to destinations from which these mud-slinging websites are being operated to make necessary investigations.
He said over the past period, many malicious and defamatory material had come on several websites targeting him in a disgraceful manner.
He said it has been difficult to take legal action against such as those notorious websites are not registered in Sri Lanka. He said the websites which often character-assassinate popular personalities do not provide the victims their right of reply and the UNP should take maximum possible against the operators of these websites.
Meanwhile, the Ministry of Information and Mass Media plans to bring all websites operated from Sri Lanka under the purview of the Sri Lanka Press Council. Speaking at last week's news conference at the Ministry auditorium, Minister of Information and Mass Media, Keheliya Rambukwella said that since there is no authority to regulate websites, they were compelled to take this decision, considering numerous complaints that have been received against websites.
"It is an exception since those monitoring regulations don't cover websites. Considering these issues, the government decided that laws with regard to the media will be amended making registration of news websites compulsory by law," he said. The Sri Lanka Press Council is a statutory institution established under the Sri Lankan Press Council Act No. 05 of 1973, which comes under the purview of the Mass Media and Information Ministry.
A code of ethics for journalists has been introduced as rules by the Gazette Extraordinary No. 162/5 A of October 14, 1981. The Press Council performs its duty with a vision to protect press freedom in Sri Lanka and to popularize press freedom as a cultural element for national development.
The Minister further said the Press Council Act will be amended introducing new regulations, etiquette and guidelines aimed at streamlining websites. It has been revealed that certain websites carry out mud slinging campaigns against politicians, artistes and other reputed personalities.
As per Sections 25 and 26 of the Sri Lanka Press Council Act, all newspapers, magazines, periodicals published in the island should be registered with the Sri Lanka Press Council.
Since websites are an exception, the Media and Information Ministry requested all websites to register with the Information Department. Responding to this request, a great number of websites registered with the Information Department while only two websites went before courts against this decision.
However the court ordered those two websites opposed to the Media and Information Ministry decision to follow suit and abide by the regulations and guidelines issued by the ministry regarding registration of websites.
Responding to a question raised by a journalist Minister Rambukwella said media freedom in Sri Lanka was not under threat. "Free media is not under threat. All we want is to ensure the right of reply for people who may be maliciously targeted by certain sections of the media. It is with this in mind that we directed all news websites be registered," he said.
Celebrities welcome police action
Many celebrities, including some of the leading actresses, singers, politicians and other public figures warmly welcomed the Police action over the Lanka Mirror and XNews websites, apparently operated by Mangala Samaraweera.
The former SLFP die-hard loyalist of former President Chandrika Kumaratunga who later crossed over to the UNP is better known for his media gimmicks when he was heading powerful ministries.
In a bit to get out of his political wilderness, Samaraweera has been operating various websites which have been targeting their political opponents, not only in the Government but within their same party - the UNP.
In a bid to resurrect the political image of Opposition leader Ranil Wickremesinghe, it was alleged that Samaraweera was using these two websites to sling mud on UNP Deputy Leader Sajith Premadasa, who was threatening the UNP leadership, in a disgraceful manner. Hence, many UNP seniors loyal to Premadasa openly commended the Government's move to raid the office from which these two websites were operated.
The most relieved were some of the leading actresses, against whom loads of concocted stories were uploaded to those websites on a regular basis. Many such popular figures were seen commending the police action through media and social networks such as facebook. The masses too commended the move, saying that Samaraweera or any other person should not be allowed to publish defamatory articles against public figures in the name of democracy.
Smaller parties evade elections
Some of the parties in the Opposition seem to be showing undue scare to face elections. Though a party in any democratic state would welcome any type of elections, most Opposition parties in Sri Lanka seem to be reluctant to go before the people.
As stated in this column last week, it was Sarath Fonseka's newly formed Democratic Party which first announced that it would not contest the forthcoming elections to North Central, Sabaragamuwa and Eastern Procincial Councils. Days later, Social Equality Party, the second breakaway group of the JVP, declared that they too would not field candidates to at the Provincial Council elections.
Both these parties have been boasting about their strengths, projecting an highly overrated picture than their true membership. Hence, they seem to be reluctant to go before the masses so that their true strengths would be exposed.
Fonseka, of course has a reason to keep his party away from elections, probably after that bitter experience at the 2010 Presidential elections at which he highly overestimated himself and made unrealistic assumptions. People had a respect for Fonseka as an Army officer but he lost that by turning out to be a foul-mouthed politicians after his retirement.
He thought that he could capitalise on the image he had as a soldier to do a political somersault from an ordinary citizen to become the First Citizen of the country.
That was where he was sadly mistaken. On the other hand, his political immaturity would have made him to go by the number of people attended at his political rallies during the last Presidential election.
He appeared to be carried away by bogus estimate of crowds given by Mangala Samaraweera. At last, Fonseka has understood his true political strength in keeping his party out of the Provincial Council elections.
Top Lankan diplomats in Diyatalawa
Sri Lanka spends a large volume of public funds to maintain its diplomatic missions abroad. But only a few Ambassadors and High Commissioners representing Sri Lanka are going that extra mile and do a dedicated job to look after broader interests of the country.
At the same time, there are some non-career diplomats who are doing an exemplary job, identifying their true needs of their work stations. At the same time, there are a few career diplomats who too are working tirelessly to take Sri Lanka's vision to the world.
Sri Lanka has paid attention of strengthening its diplomatic service and also made special emphasis on establishing diplomatic ties with more countries in the African region. With the intension of strengthening new diplomatic relations across the world, the Government last week decided to establish new foreign missions in 15 African countries. The Ministry of External Affairs last week summoned all Sri Lanka ambassadors, High Commissioners and heads of missions to Colombo. A special two-day workshop to enlighten them on Sri Lanka's foreign policy, their roles in keeping with new developments in the international arena and further strengthening business, cultural and social relations with the countries they are stationed.
President Mahinda Rajapaksa inaugurated the special sessions for Sri Lankan diplomatic heads at Diyatalawa yesterday, stressing the need to serving their Motherland with more courage, devotion and dedication.
President at two sports events
Earlier during last week, the President graced two important sports events. He made his way to Nittawela rugby grounds on Saturday (30) evening to catch the action at the second leg of the Bradby Shield encounter between Trinity College and Royal College.
He presented the coveted Bradby Shield to the captain of the Trinity team which beat Royal in a convincing manner. President has a passion for rugby as all his three sons have been top rugby players since their school days at S.Thomas and going on to play for the national team with distinction.
On the following day afternoon, the President arrived at Nawalapitiya to declare open the newly constructed Jalatillake Sports Complex, built at a cost of Rs. 300 million. It includes a swimming pool, indoor stadium and an outdoor stadium with seating facilities. The happiest among the VVIPs was none other than the Minister of Sports Mahindananda Aluthgamage who has shown a keen interest to afford such facility to people in his electorate.
But Minister Aluthgamage says he does not want to be a conventional Sports Minister who only serves for his electorate.
The modern sports complex in Nawalapitiya is the first in a national level program that would ensure similar top level stadia with swimming pools in all nine provinces.
In addition, the Government in keeping with its policy to have a healthy nation through sports will construct second level sports complexes in each district so that rural youth could train at their hometowns.