Reading the hand behind Aryavarta
An interview with Krishna Udayasankar:
[Part 1]
A writer, with the power of words, can create and recreate entire lives and worlds driving the readerís imagination to lengths that may have been thought not possible. The power of a writerís imagination and style of delivery to form a compelling narrative that creates a bestseller is to be saluted.
Krishna Udayasankar is a writer from our region, of Indian origin, now domiciled in Singapore. She is the author of the bestselling Aryavarta Chronicles series, which has now amassed a sizeable readership in India and beyond and is growing in demand for expansion of the stories that chart the land of Aryavarta steeped in a time and space that blends history and mythology of the subcontinent.
A lawyer with her academic credentials in law from the National Law School of India University (NLSIU), Bangalore, Krishna also holds a PhD in Strategic Management from the Nanyang Business School, Singapore, where she is presently a lecturer.
Apart from her bestselling novels she has also written Objects of Affection, a full-length collection of poetry. In this first instalment of a two-part interview to the Sunday Observerís Montage, Krishna speaks of who she is as a person and the aspects to her as a reader, writer and what has formed the mettle in her to be pursue the goal of becoming an author.
Excerpts
Question: Tell us a bit about yourself. Apart from what is found in your CVs, how would you describe yourself in terms of your likes, dislikes and quirks.
Answer: Iím not half as interesting as my characters, so thereís not much to say! My idea of a good evening is pizza, beer and a movie at home, with my family, which includes two very book-loving Siberian Huskies, so thatís my life, really. I also enjoy working out and yoga, sing along with the radio when Iím driving, and totally dislike the colour pink!
Tastes
Q: What are your tastes when it comes to fiction? What kind of novels claimed you as a committed reader over the years?
A: My reading tends to be quite varied. For example, right now Iím reading the first book in Rick Riordanís Kane Chronicles and re-reading Wolf Hall.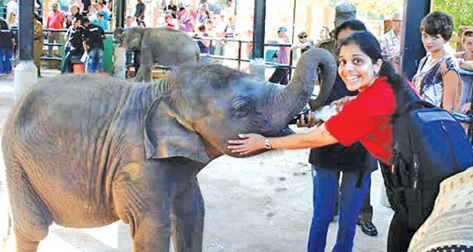 In terms of favourites: that would be Herman Hesse, Rudyard Kipling, Isaac Asimov, Kalki Krishnamurthy and J.R.R. Tolkien. Iím also a fan of the Calvin and Hobbes comics by Bill Watterson. In addition to these masters, I grew up reading a lot of the classics - Jules Verne, Alexander Dumas, Conan Doyle, Victor Hugo Ė as well as a lot of eastern and western philosophy, for example the Upanishads and Plato. I also enjoy poetry a lot.
Q: How did you get started as a writer? Is there a story behind that, like some epiphanous moment that one day made you embark on the path to becoming an author of a bestseller?
A: I have been writing since childhood. Apparently, when I was asked the all important Ďwhat do you want to be when you grow up?Ē question, my reply was: ďA writer or an astronaut.Ē I also remember creating imaginary worlds in my head and weaving stories in and out of them Ė everything from staged battles to horseback chase sequences. But then, life caught up with me, and childhood was left slightly, if not far behind.
Iím not sure how I came back to writing, after many years Ė I think it was my familyís support that made me take the leap. But now, five years hence, I just canít imagine I spent all those years without writing!
Q: Your academic foundation is in law and strategic management. How would you then describe your mettle as a writer? From where does the writer, author, Krishna Udayasankar find her pulse as a storyteller?
A: Every book is, in that sense, a product completely, of a writerís life. In retrospect, when I look at the kind of careers I chose Ė law and then management academia Ė I can see the thread of logic, the attempt to complement my love for writing with the issues and ideas that I found fascinating, such as the philosophy of the complex socio-economic world around us. It was only inevitable, I think, that the story that emerged was a combination my passions in terms of subject matter.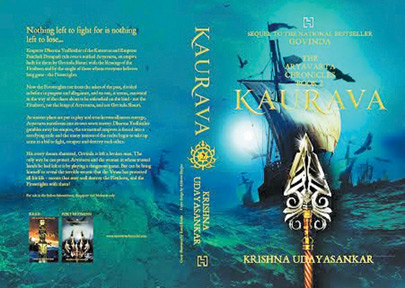 Q: Very recently you visited Sri Lanka. How was the experience? And since you are a novelist whose works are related to the historical and Ďmythí genres, Iím interested to know if you visit any Ramayana related sites in Sri Lanka? Could your travels in our country kindle some inspiration for a future work?
A: Yes, and yes! I consider myself incredibly lucky to have spent 10 glorious days in your country. Truly, I consider myself fairly well-travelled, but am yet to see a more naturally bountiful place! And the beaches Ė Iím a hardcore beach bum, and definitely have to come back with my husband to get more of that!
I did get to see the Sita Temple, which I was told is at the site of the Ashoka tree grove where she stayed, while in Lanka, at Nuwara Eliya.
I also visited the Ravana Falls and other places in the region. As for inspiration, there is new story premise in my head that just wonít let go of me! For now, all I will say is that it struck me when I was visiting the various Dagobas at Anuradhapura, as well as when I stood in front of the Mahabodhi tree Ė so I can guess which historical figure I am now interested in!