President invites Ranil to Medamulana to teach him the art of winning
Most politicians make it a habit of embarking on an overseas holiday during the Sinhala and Hindu New Year season. The most notable and exemplary exception is President Mahinda Rajapaksa who always prefer to remain at ancestral Carlton residence in Tangalle, following the rituals and New Year customs with his family, relations and fellow villagers.
Opposition leader Ranil Wickremesinghe is notorious of ignoring the New Year customs and making long holidays during the season. The only exception this time is that he is in the United States on a special study tour.
Ranil left for the US last Monday for a stint at Massachusetts Institute of Technology (MIT). He claimed that he is going on a study cum lecture session for a month, adding that he would study the art of toppling governments.
His last party event before leaving Sri Lanka was the swearing-in ceremony of the newly elected UNP members of the Western and Southern Provincial Council elections at the party headquarters Sirikotha.
Speaking at the event, Ranil said the UNP would now press the government to hold a presidential or a general election next year. He claimed that the government was originally planning to hold a presidential election by February 2015 but had given up the idea.
The UNP leader added that the time had come for politicians to think of people rather than their preferential votes in future elections. Stating that the people in this country were frustrated with the political parties, politicians and politics.
Meanwhile, President Mahinda Rajapaksa said that the Opposition's expectation of regime change through an Arab Spring kind of uprising will never succeed in Sri Lanka and that there is need to go to Harvard or Massachusetts Institute of Technology (MIT) to learn how to topple governments.
"If they come to Medamulana I will teach them how to topple a government," the President said amid laughter from the audience during his keynote address at the Central Bank auditorium at a ceremony to release the Central Bank Annual Report 2013.
The President said the opposition was awaiting the collapse of the government like the jackal going after the goat but could never catch it.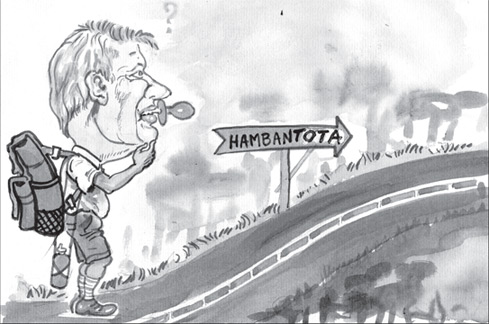 President Rajapaksa said the opposition had predicted a change of government every March since 2005 but all such predictions have eventually become day dreams. Commenting on the Government's achievements in the economic front during the past few years, the President said the economic policies and programs had to be changed to adapt to the new economic trends in the world.
"For instance, after the victory in 2009, officials set the tourist arrival target at one million by 2016 but I said I am not satisfied. My target was a minimum of 1.5 million tourist arrivals by 2016. We are to achieve the 1.5 million tourist arrival target even before 2016 and by 2025 we will host 2.5 million tourists," he said.
Sri Lanka thanks Manmohan
President Rajapaksa, days after India bucked domestic political pressures and abstained on a crucial vote at the UN Human Rights Council, sent a warm thank you letter to Prime Minister Manmohan Singh.
India's abstention has reopened relations with Sri Lanka with an immediate response of releasing all Indian fishermen in Lankan custody. Indian officials said the Centre's decision has given them greater flexibility to assist Sri Lanka to find a political devolution.
Indian High Commissioner to Sri Lanka Y. K. Sinha said in Colombo that his country considers early progress on devolution and a political settlement as being crucial to Sri Lanka to tackle mounting international pressure.
Sri Lanka, in a goodwill gesture, freed all the Indian fishermen held for crossing over into Lankan waters.
Meanwhile, President Rajapaksa is expected to visit Bahrain later this month. "President Rajapaksa will visit Bahrain at the end of this month but the dates have not been officially fixed yet," presidential spokesman Mohan Samaranayake had said.
World Cup unites politicians
It was cricket fever at its best after Sri Lanka team emerged champions at the T20 World Cup tournament, beating India by six wickets in the final played in Dhaka last Sunday.
Sri Lanka won a cricket world cup only for the second time and the first maiden World Cup in T20 version of the game. Sri Lanka's only other victory at a World Cup final was way back in 1996 under Arjuna Ranatunga who now serves as a Kalutara District DNA parliamentarian. Incidentally, the Most Valuable Player of that 1996 World Cup tournament – Sanath Jayasuriya is serving as the Chairman of Selectors and the Deputy Minister of Sports. Ranatunga and Jayasuriya got that old memories back when the new T20 world champions were felicitated in the Parliament on Wednesday.
The party leaders who met on Tuesday, unanimously agreed to fete Lasith Malinga and his lads who brought honor to Sri Lanka. The party leaders who met in the parliamentary complex decided to cancel Wednesday's programme, and instead allocated that time to felicitate the national team.
It was one of those few rare occasions that all political parties, both in the Government and the Opposition, united to greet the champion Sri Lanka team. Malinga and his men were greeted on arrival by Speaker Chamal Rajapaksa.
Most politicians in the Government and in the Opposition, took keen interest in taking photographs with the World Cup held by captain Malinga and the rest of the Sri Lanka cricketers.
Earlier on Tuesday, Sri Lanka team returned home to a red carpet welcome at the Bandaranaike International Airport and were received by Sports Minister Mahindananda Aluthgamage and officials of Sri Lanka Cricket. Then team travelled to Colombo by an open motorcade and was taken to Temple Trees where President Rajapaksa felicitated the team.
A relaxed President was seen sharing his joy with the players who too showed a keen interest in sharing their experience with the sporting President.
Indian Megastar Amitabh Bachchan too was among the celebrities who had congratulated Sri Lanka cricket team. "It was just not our day and the better team won. Congratulations to Sri Lanka, who played really well," Bachchan was quoted as saying.
Lanka won't cooperate with UNHRC inquiry
Sri Lanka will not cooperate with a United Nations inquiry into alleged war crimes. External Affairs Minister G.L. Peiris said last week that the government had not accepted the UN investigations due to concerns over its legality, fairness, and some conflict of interest issues.
"Where the government is required to do anything to support the investigation or to participate in it, the government will not do that," the Minister told a Foreign Correspondents Association (FCA) forum on Monday.
"Nobody can come here without the cooperation of the Sri Lankan government," he added. However, the government will not prevent anybody from giving evidence to any such investigation as there could be various views from different people, he said. It is still not clear how the UN would conduct its probe. "They will have to tell us what they want to do. But the clear policy decision had been taken that we do not associate ourselves with the inquiry and we do not submit to the jurisdiction of the investigating committee," Minister Peiris had said.
It was a Mannar cemetery
Various political parties in the Opposition and INGOs have been attempting to take undue political mileage after human skeletons were first discovered on December 20 by some workers digging a trench to lay a pipeline, 2013.
The Mannar Magistrate later instructed the Archeological Department to investigate and report on the findings. The skeletons unearthed at Thiruketheeswaram in Mannar were reportedly of bodies buried since the 1930's, further it is not a mass grave site as earlier believed, but an ordinary cemetery, the Archeological Department Director General said last week.
"Investigations carried out by the Archeological Department had disclosed that the grave site in Thiruketheeswaram, Mannar has existed since the 1930s. It had been an ordinary cemetery. The bodies had been buried with the hands on the belly with the head in a westerly direction as in normal burials," Director General Senarath Dissanayake told a news conference. He said there were several differences between a mass grave site and a normal cemetery.
"Unlike in a normal cemetery where bodies are buried separately and in an orderly manner, where a mass grave is concerned bodies are dumped together and piled one over the other in a haphazard manner," he said and added that about 60 skeletons had been recovered so far from the Mannar mass grave site.
Nalliah expelled after exposing Mano
Deputy Leader of the Democratic People's Front (DPF), Nalliah Kumaraguruparan was expelled from the party after he made stunning disclosure regarding the conduct of its controversial party leader Mano Ganeshan.
Nalliah Kumaraguruparan said that he was removed from his post after he disclosed that Ganesan was more dedicated to a Sinhalese woman than to the Tamil community while claiming that even though the Democratic was part of the party's name, he was acting more like a fascist.
Kumaraguruparan claimed that Ganesan was constantly vouching for party Administrative Secretary Priyani Gunawardena while he also questioned how she won a seat in the Colombo Municipal Council on the votes of the Tamil community.
The DPF Deputy Leader said that the party's Central Committee had met without notifying him and had decided to remove his from his post. Kumaraguruparan added that even though the move was illegal he did not want to take legal action but would much rather have nothing else to do with a fascist leader and would therefore resign from the party.
Meanwhile, Ganesan stated that Kumaraguruparan was removed from the party because he was criticising the party and divulging information regarding the party while conducting himself in a manner which was beneficial to the government.
Chandrika opens her mouth again
Former President Chandrika Bandaranaike Kumaratunga is better known now for making sweeping statements and poking her finer into unwarranted Government matters even after her retirement.
After her recent failed attempt and national resistance to a so-called religious harmony thought an INGO, she made use of a ceremony held in honour of the political leaders and all who helped to initiate the Udawalawe and Chandrika Wewa schemes, to make another political speech. The event was held after the opening of stage two of the Halmillaara scheme at the Kottawatta Village Hotel in Udawalawe.
Speaking at the event, Chandrika said that if the Opposition did not act properly and unseat this government democratically, the people would revolt as has happened in some countries. She expressed her gratitude to the people for remembering the services rendered by the former prime ministers S.W.R.D.Bandaranaike, Sirimavo Bandaranaike and Dudley Senanayake and minister C.P. de Silva who had pioneered the Udawalawe and Chadrika Wewa schemes.
She also recalled how C.P. de Silva named the new tank as Chandrika Wewa when she was only a 10-year-old girl. "Many politicians and other supporters asked me to amend the Constitution and contest the presidency for a third time. But I refused as I am not greedy for power," she was quoted as saying.
But only a kindergarten child would know that she did not have the two thirds majority that was needed to amend the Constitution. She enjoyed just one-seat majority during her first term and a slim majority in the second term which was won though sympathy votes after the Town Hall bomb explosion. She had no chance whatsoever of amending the constitution and the way she conduct herself and make statements are clear indication that she had not given up her lust for power.
Fonseka finds excuses
Democratic Party (DP) won only a total of 12 seats at the Western and Southern Provincial Councils after many of its stalwarts left the party in disgust, complaining of party leader Sarath Fonseka's dictatorship and a democratic party without democracy.
But Fonseka said last week that he had to face criticism from various sources during recent times because he took stern action against those who used his party's name for their personal benefits and to commit frauds.
Speaking at the swearing in ceremony of the new Provincial Council members from the party, Fonseka said he is happy with the progress the party has made.
"Some say I am arrogant and do know how to talk decently. I was accused of calling some people chimpanzees, but I have to be firm with those who use our party's name to fulfill their personal agendas and rob funds," he said.
Fonseka claimed that his party would not be shaken by the allegations which were being made by those who get rewarded by the government for doing so. He asked the newly-elected Provincial Council members not to follow the other politicians and not to use their newly earned positions just to improve their lifestyles but to do justice to those who elected them.
He said the recent political gains of the party were not achieved by being on a bed of roses but by going through various hardships. "We had to be in jail and spend hours in court houses in the past," he recalled.
Therefore, Fonseka said, the newly elected members should maintain and improve the party's position. Fonseka made this point by highlighting that the total number of votes his party obtained at this election in just two provinces was sufficient to get seven seats when it comes to the general elections.
It seems that Fonseka is still having day dreams, just as he lived in a political fantasy during his disgraced Presidential election campaign in 2010.
Uva elections later this year
Elections to the Uva Provincial Council will be held in the latter part of the year, Public Administration and Home Affairs Minister W.D.J. Seneviratne said adding that most probably the Council will be dissolved in July.
Minister Seneviratne said the UPFA has discussed the necessity for good, competent and acceptable candidates for the Uva Province while leaders in the Province have been instructed how to set about their task.
The minister noted that the just concluded elections in the Western and Southern Province was peacefully and there were no incidents of rigging.
This is mainly because the Elections Commissioner took steps to enforce the election law, he said. Minister Seneviratne stressed that in 2009, the UNP obtained 29 percent of the votes amidst setbacks but this time the percentage had dropped to 26 percent.
The percentage of votes obtained by the UNP clearly shows that its Colombo vote base is declining gradually, he said.
Meanwhile, Southern Province Chief Minister Shan Wijayalal de Silva who sworn in as Chief Minister for the third consecutive term recently, assumed duties at his ministry at Dhakshina Paaya, Labuduwa, Galle at a simple ceremony.
Southern Province Sports, Rural Development and Youth Affairs Minister Weerasumana Weerasinghe and Chief Minister's wife Desi Pathma de Silva were also present.