Darling we aren't too old, though we pass the Jubilee Gold
Nilame finds his Kumarihamy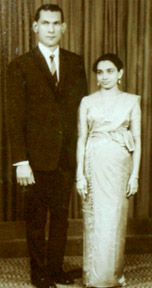 Falling in love with one of the tallest men in Sri Lanka could make history. Jinawathie Kumarihamy never dreamt she would get married to a man with a height of 6' 7" who was a legend in the Lankan Parliament with his unshaken personality. But it happened. And today she is celebrating the 50th year of marriage with him.
Wanigasekara Mudiyanse Ralahamilage Alick Aluwihare and Wijesundara Wickremasinghe Panditharatne Wasala Mudiyanse Ralahamilage Jinawathie Gopallawa were both in green, the party colour, welcoming us warmly to their home at Pita Kotte. "Ours was a proposal. You see, those days the only interest I had was politics.
It was my hobby," grins Alick, the 80-year-old politician. "I have been married for 50 years and been in politics for 45 years. I am supposed to be the most senior 'politicca' in the Parliament today. The oldest not-out wicket," he boasts. "Only once was I defeated. That was in 1970. I lost the Matale District by 650 votes. Other than that I have always won," he claims.
Alick Aluwihare, Member of Parliament in Matale was born on December 20 in 1926 to W.M.R.William Aluwihare, Government officer at Matale Kachcheri cum landed proprietor and Seelawathie Hulangamuwa Aluwihare Kumarihamy.
Alick was the 11th of the dozen siblings in the family.
He had his education at Wijaya College, Matale for 8 years and then at St. Thomas College, Matale. His parents, his country and Matale District seem to have been the three priorities in his life. "Bernard Aluwihare, my father's younger brother was the MP in Matale (Prof. Arjuna Aluwihare's father) from 1936 to 1961.
I was quite impressed by his political career, and immediately after sitting for the Senior School Certificate exam in 1948, I joined him to organise the Matale electorate," he recalls.
"My parents were not in favour. But I didn't give up. I strived to help the poor. There weren't barricades in my politics. Cast, creed, community and religion were immaterial. I used to stay on the road in front of my house in a sarong with a bare body talking casually with common people. Though I was born in a Walawwa my heart has been with the common man," he grins.
Alick was very fond of his parents. Mudlier William Aluwihare and Kumarihamy treated their son, the one before the last as a reward received from heaven. Sporty Alick, when playing volleyball in the plot of land owned by his mother, always thought he would build his mansion there. And did it. "I was a young chap though I had this feeling.
I always thought I should build a house before getting married. And also wanted to get my parents down there and treat them as best as I could, before marriage. Generally old Kandians do not like to part with their Walawwas.
But I however could convince them swearing I would not get married if they did not move in. So they had to. But, Pappa used to get up early in the morning and visit his old Walawwa immediately after his breakfast. The old place was half a mile away from mine.
My brother was staying there, and my father did this as a routine," he smiles.
Alick was a boxing champion. His team won the all island Stubb Shield many a time when at school. Other than that the Gulliver in Lilliput attended to every sport available in the college. "If I got a shot from somebody in my life, that was from my Vice Principal, Mr. Jayasinghe for hitting another boy at school. I still remember the three shots with the cane, on my palm.
I was about 8 or 9 years then, and after that I have never let things go the wrong way. It was the first and last shot I had," he laughs.
Alick's parents were anxious over his stubborn involvements in politics. "Putha, you should get married before we die," his mother grumbled. By that time Alick had already gone to see 50-60 brides. None was according to his taste. Now his parents were also getting agitated. Finally they forced him to accept the proposal that came from the Gopallawa Korale Walawwa, Kurunegala.
At first he didn't notice much difference in the 18-year-old girl who looked as if she was a fish out of the water beside him. That was the usual behaviour of Kandian girls, he knew, as he had seen many. His mind was running to the electorate. The next committee meeting should be organised. He counted the members he had informed. There were many more to be informed. Lot of things to be done in the list. His mother nudged him.
"Now do you like to marry her," her voice was firm. "Hmm," he okayed it as he knew there was no way to escape.
W.W.P.W.M.R. Karunaratne Bandara Gopallawa Korale Mahattaya of Gopallawa village in Kurunegala and Anulawathie Kumarihamy Katupitiya were the parents of Jinawathie who was born on May 19 in 1938 as the eldest of 6 children. She had her education at Hillwood College, Kandy. Even while she was at the school hostel, her Appachchi's one and only headache was to find the best Nilame in Kandy for his 'Punchi Kumarihamy'.
Alick started to taste the roasted and salted Kaju nuts which was served by his bashful maiden Kumarihamy who would be his bride within a few days time. For the first time in his life he was falling in love (as he claims). 'A man should have a female partner in life'... finally he was beginning to agree with his mother.
On May 9 in 1957, Alick and Jinawathie entered wedded life under the shower of blessings of both families.. The teenage bride celebrated her 19th birthday after 10 days of her wedding (on May 19) at her Nilame's mansion. Alick was relieved to see his Kumarihamy who was in tears throughout the wedding day, finally smiling a bit after receiving the valuable gift he gave to her, a Singer sewing machine.
All these days she was home sick and badly missing her family. It was hard to get adjusted to a new place all of a sudden. She had only a month to get to know him. She had to obey her parents. It was the Kandyan custom. The parents' word was the last verdict.
Alick's horoscope forecast that he would one day be the greatest man in the family. 'He would shine in life after 1961,' was the prediction. His MP uncle who believed this thoroughly never let go of his grip on Alick.
Eventually succeeding Bernard Aluwihare, his uncle, Alick contested the Matale By-election on the UNP ticket which co-incidentally fell in 1961. So he won! - proving the astrological prediction....
And since then a United National Party seat has been reserved in Parliament for Alick Aluwihare MP except from 1970 to 1977. Alick held the titles of Deputy Minister Plantation Industries, and then the Minister of Rehabilitation and Construction; Post and Telecommunication; Ports and Shipping: Public Administration; Home Affairs and Provincial Council from time to time.
"In 1961, my starting allowance as MP was Rs. 600. Additionally we were entitled for Rs. 100 for petrol and Rs. 75 for the clerk. A room at Shrawasthi was Rs. 35. And those days I used to travel by train from Matale to Fort.
I get off there and then crossed the road carrying my suitcase to lodge myself in a room for Rs. 7.50 in the Maliban Hotel which was just in front of the station. I spent 50 cents to go to the House of Representatives (Parliament) which was in Galle Face (today it is the Presidential Secretariat office)," he recollects.
"My parents were the biggest gift I have ever got. They blessed me saying that 'Puthe, umbata hathara maha nidane pahala wenna ona' (Son, may you be blessed with the world's best treasures in life)... My father had a long life. But my mother died after three months of my wedding by meeting with an accident. I still worship their picture every time before I set off from home and before I go to bed as a prayer," he sighs. The giant parliamentarian wiped off a tear, and was silent for a few seconds.
His only daughter came home just then with her little son bringing him home from the montessori. "Hey, Chooti Putha, come. Come here," Alick tried to fetch his little grandson. "Now we are proud grandparents of 9. The eldest grandson who is 16 years is taller than me, and the youngest is just one year," he smiles.
Alick's and Jinawathie's three eldest sons are already in politics on UNP tickets. Ranjith Jinatissa Aluwihare is the MP of Matale District. Duljith Nandalal is the Opposition Leader in the Matale Municipal Council, Wasantha Lakshminath who was the Chief Minister of the Central Province, now the Opposition Leader of the CP.
Their daughter Manoranjani and the youngest son Sahan Rachindra, a planter at Maskeliya are the two who haven't got into politics yet.
"I have helped many in many ways personally, officially and politically. I'm really proud of myself as I have never bee involved in any sort of corruption. I'm quite content.
Also I did many renovations at Aluwihare Aaloka Viharaya with the assistance of my relatives and friends. We completed the steps to the entrance, Makara Thorana and Eth Pavura. Now I have laid the foundation for a Chaithya of 41' in height and 30' in breadth, for the cost of 10 million. That would be my next extreme target in life," he hopes.
Jinawathie listens to everything with a charming smile. "She is a good wife," he grins. "Hardly had a problem in life," she utters. Among their children and grandchildren the Aluwihare couple spend their golden years - full of contentment.
lakmal@sundayobserver.lk