Army chief rings alarm bells in LTTE camps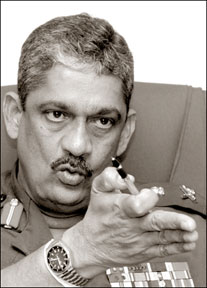 Army Commander Lt. Gen. Sarath Fonseka, whose service was extended recently, in an interview told the 'Sunday Observer' that he wants to eradicate terrorism once and for all during his term of office.
The veteran battlefield Commander observed it is only a question of survival for the terrorist as many of their cadres have started abandoning the ship. Following are the excerpts of the interview:
Q: It was reported that the LTTE has strengthened its surveillance in the North by deploying more civilians. Are these civilians paid by the LTTE ?
A: No. They are not paid much but one member from each family have been asked to come forward and may be they are given food and accommodation, because the LTTE does not have money to pay them. The civilians, of course were well paid when the A9 road was opened, as the LTTE earned over Rs. 10 to 15 million a week.
Q: How many LTTE cadres are escaping or abandoning the LTTE now ?
A: Three or four cadres desert the LTTE but they do not come to our side due to difficulties to cross LTTE lines and mine fields. I think if they can cross safely more LTTE cadres would desert the organisation. But everyday more than four terrorists abandon the LTTE.
Q:Is it true that the LTTE is trying to provoke the military in Jaffna?
A: Provoking the military is the best option that they have now. If they want to overcome the present situation as they are down and fallen, the only option left for them is by capturing Jaffna. If they capture Jaffna they can recruit cadres from Jaffna area and also they can regain their lost prestige. Then the Tamil diaspora and the rest of the world will once again recognise them as a powerful organisation. Even so, they have to sacrifice a large number of their cadres to try to capture Jaffna. Other thing Prabakaran won't mind if he loses over 1,000 carders in the process.
But the question is that though he might lose 1000 cadres but still not capture Jaffna. Last time when he tried he lost around 500 cardres.
It will not be an easy task for them to enter Jaffna. Now we are more stronger than what we were last year. Last year, we were not ready and even our soldiers have not seen the battlefield for four years. In Muhamalai, there were soldiers who had never experienced a war situation but they did not abandon the battle. Now they are well experienced. However, now the LTTE faces a challenge to protect their defence lines rather than in attacking us.
Q: While the military says that the East is clear, Sri Lanka Monitoring Mission (SLMM) says that the LTTE activities are still going on in the region. What is the real truth in the East?
A: We do not say that we have killed the last LTTEer. We had weakened their military power. There may be terrorists. Even in Colombo there are terrorists. We have statistics about those who escape the LTTE and we know that they have reunited with their families. So, if they are in the rehabilitation process we do not want to arrest them. Sometimes there may be minor attacks by these sleeping cadres using their hidden weapons. Then anyone can say that we have not fully cleared the East. They should not forget the situation in the East a year ago.
Q: Still there are complaints about fresh recruitment by the Karuna faction. Do you agree?
A: According to information that we have received, Karuna faction has stopped recruiting people and they have also stopped child conscription. They have over 15 political offices in the East and their cadres are stationed in these offices. The government has invited the Karuna group to enter the democratic stream like the JVP who had given up their military activities.
Q: On what basis do you say that Karuna faction does not recruit people any more?
A: Because we know what is going on in the East now. There have been no complaints about such recruitment or child conscription. If they continue to do so we would come to know about it.
Q: Some political parties highlighted the need of disarming the Karuna group. Do they still openly carry arms despite the government announcement that only military and the Police can carry weapons?
A: We do not allow any group carrying weapons and try to engage in terrorist activities to replace the LTTE. At the same time, the LTTE have not given up attacking its political opponents in the North and the East. They have not stopped killing members of the political parties like PLOTE, EPDP and TELO. The latter group are always under attack. So, Karuna's people say that they will not carry weapons if the LTTE threats are totally eradicated. Other thing is we can not assure the 100 percent security for these people. Therefore, according to them, they are retaining their weapons for their own safety. But, legally, no one is allowed to carry weapons except the security forces and the Police. However, still our target is to eliminate the LTTE.
Q: Recently LTTE's political Leader S. P. Thamilselvam has said that the LTTE was on an 'intentional silent' mode. How do you see this statement?
A: Was the LTTE intentionally silent in the past ? The LTTE cadres are not there to be silent but they are there to attack the army and to take over the areas. If he says that he is intentionally silent it means that he does not do what he was supposed to do. He is sidelined. In the meantime, the LTTE is not capable to attack us and they are trying to survive.
Q: Once you have said that not only the politicians but also the military is responsible for making the LTTE stronger. Can you elaborate on it?
A: Yes. We are also responsible for our lapse in not vanquishing terrorists during the last 20-years. There were military victories as well as defeats. When there were military defeats it did not happen because of any fault of the politicians but due to the poor capabilities of those who handled them. They did not fight properly and they were not ready for battles. We have been given total freedom to handle the war the way we want. If one of our camps is captured now, can we put the blame to the politicians of today ?
These are not conventional battles. Those who are in the battlefront need to engage in the war with a total commitment and can not assign officers with average capabilities. We need military officers who have outstanding capabilities. But earlier there were no such system. Now we do not consider the seniority of the officers but it is the capabilities and dedication that push them up.
When we were ground commanders we never saw the top army brass in the battlefield. When I was the Commanding Officer of Jaffna, the then Army Commander visited us there only twice - once with a Minister and then with the Defence Secretary. But I had visited over 25 times during the last one and half years. when I am in the battlefront I can get a clear picture of what is going on there whereby no one can mislead me. Other important thing is when the soldiers know that everybody including top officials, are involved in the war they also do their best. But if they feel that only they have been harassed and pushed around while senior people are having good time while directing them from their air conditioned offices with personal interests, uppermost in their minds.
Q: Are you blaming your predecessors?
A: No, I am not letting them down. They were the best at that time and that is why they were made commanders. But if I am the Commander and if there is a debacle now I must take the full responsibility. I can not blame others. If there were problems and failures no body can say no. At the same time they are welcome to claim their successes.
Q: Do you think that the SLMM has a role to play now?
A: Their agenda was to report during peacetime, on CF violations. CFA is there but it had been violated after the LTTE attacked Kattaparichchan, Muhamalai and Mavil Aru. And the fighting started and it has been violated now. It is not our fault. We are doing a humanitarian operations. In the present situation, if we talk on ground reality I do not think the SLMM can report anything. They can live with a continuous single report. They can not end the report because they do not have the access due to continuous fighting from both sides. So there is nothing that the SLMM can report on.
Q: What is your destiny indicated in the horoscope?
A: My horoscope does not indicate anything adverse. Although I had a bad spell in the past I have managed to circumvent the ill effects of that period. But it seems that Prabakaran's horoscope is not good at the moment.
Q: After getting extension what would be your priorities?
A: The plan is to reach the balance. We did our best during the past one and half years. So with the new extension I have another 15-months in hand. This period is a long duration. I am sure the situation will improve much, before they talk about any more extensions.